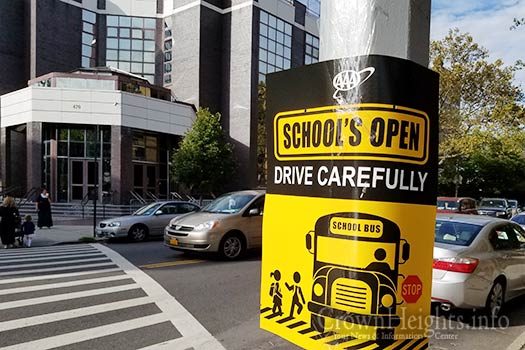 The parents of Bais Rivkah students of grades 1-3, whose teachers have been on strike since before Pesach due to lack of pay, have just been informed that school will resume tomorrow, Wednesday, on a modified schedule. Unfortunately, the problems underlying the strike have yet to be resolved.
The following is the full text of the letter received by the parents:
Dear Parents,
School will IYH resume tomorrow, Wednesday, 7 Iyar, May 3, for grades 1-3 with a modified schedule.
The day will begin for grades 1-3 at 10:00 am and dismissal will be at 2:30 pm. The day will be divided between Hebrew and English teachers and regular lunch will be served.
IMPORTANT DISMISSAL INFORMATION – Dismissal for all students of grades 1-3 will be on East New York Avenue at 2:30 pm. There will be no busing. Students who have permission to walk home alone will walk from that exit. Parent pickup both by car and in person will be at the East New York exit. Please be prompt as there will be no proper supervision after 2:35 pm.
Unfortunately, the situation which led to teachers leaving the classroom is still unresolved – just as before Pesach, teachers are owed almost half a year's salary from last year and a growing number of checks from this year. The administration of our school remains paralyzed. We have turned to Rabbonim requesting their assistance and we urge parents to do everything they can. We leave the rest in the hands of Hashem.
We are hopeful that in the days and weeks ahead we will see our students, our daughters, flourishing again in the halls and classrooms of Bais Rivkah.
Wishing you much continued nachas.
Sincerely,
Mrs. C.E. Feldman
Mrs. D. Brawer