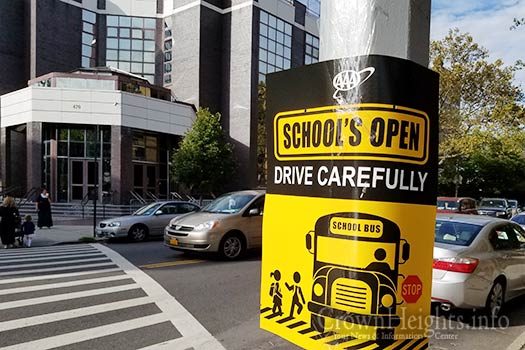 A proposal by Beth Rivkah parents to redirect their tuition checks to pay striking teachers directly was appreciated – yet rejected, and some involved said that in all likelihood school for grades 1 to 3 will not resume this year.
The following unsigned letter was circulated among the whatsapp groups of the various affected classes:
Dear Parents,
Representatives from each class of 1-3 met tonight. A representative from the board came to the meeting. He has asked that we give him until Tuesday for the board to work on their solution.
If Chas veshalom this does not occur, we the parents commit to withholding tuition until a solution is found to the teachers' satisfaction.
We commit to work directly with the teachers, paying them directly so that they can teach our students each day. A financial offer has been sent to the staff and we will let you know as soon as we hear back from them Please stand with us, as we will only be able to accomplish anything if we stand as a united front.
We will let you know once we hear from the board and from the teachers and what action should follow.
In response the following letter was sent by the teachers:
Dear Parents,
We would like to acknowledge the support we have received and continue to receive from the parent body. It means a lot to us at times like this.
You, the parents, are frustrated and rightfully so- we are too! Every moment that our students and your precious children are not in school is unacceptable. We are truly uncomfortable that we have to strike, but with the guidance of a mashpia, it was a move we were forced to make. We are doing everything in our power to find a solution, but there is much beyond our control.
Parents, we are doing all we can! All we can suggest is that parents put pressure on the relevant bodies to solve this issue ASAP in a halachik and chassidish way that befits our school.
Multiple parents reached out to let us know that there is a growing feeling among parents to divert their tuition payments to offer teachers direct pay. Although this is very generous and appreciated, we would prefer a long term plan which solves the whole issue. We NEED a solution for last year's paychecks, this year's, and iyh for a concrete plan to ensure our school's financial long-term stability.
Now that we have outlined our position and feelings in this letter, and since the situation is beyond our control, we will not be attending face to face meetings, but will continue to update you of future developments.
With heartfelt prayers for
ישועה קרובה בדרכי נועם ובדרכי שלום
Your broken hearted grade 1-3 teachers