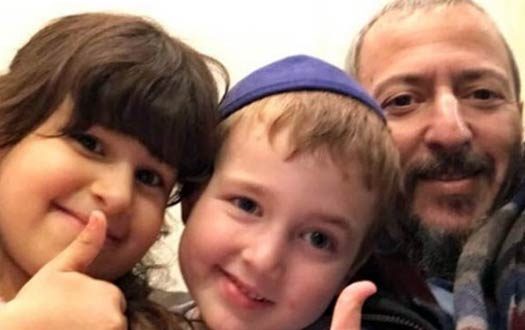 Motty OBM together with his children, Leah (6) and Yoni (4).
A group of friends have banded together and launched a campaign to raise funds for the wife and two children of R' Motty Lipsh OBM, with donations quadrupled in the next 24 hours.
A $500,000 campaign has been set up to create a lasting trust fund that will support the Lipsh Family.
As Motty was nearing his final hours, a group of friends were at his bedside singing Niggunim. They asked him to give a sign that he heard them and he weakly shook their hands. They then promised him that they will take full responsibility for his wife and children and he squeezed their hands and would not let go.
Today's campaign is the first of many steps to fulfill that pledge and ensure his wife Yudit and their two young children, Leah (6) and Yoni (4) have a roof over their head's and the basic life necessities covered.
Yudit immigrated from Russia at the tender and young age of 12 overcoming many challenges in her life. The only immediate family Yudit had was her mother, who tragically passed away one year ago and just one week after her husband Motty was diagnosed with the same illness she was suffering from at the time.
With her mother and now her husband gone, Yudit has no one left to count on but you and us.
An oversight committee led by R' Menachem Gurevtich from Crown Heights has been assembled to be responsible for all funds raised during this campaign.
The committee members include R' Menachem Gurevtich, R' Rachamim HaCohen Eizenberg, R' Avrohom Barness, R' Elli Schneorson and R' Mendy Ashkenazi, along with Rabbi Mendy Blau and Rabbi Sholom Duchman of Collel Chabad, who will manage the funds that will be raised.
3 generous groups of matchers stepped up to fund a 500,000 matching campaign… effectively QUADRUPLING every dollar donated.
It's all or nothing, for these 24 hours.
Your $100 is worth $400
Your $180 is worth $720
Your $250 is worth $1000
Your $500 is worth $2000
Donations are tax deductible via Collel Chabad.
Make a difference in the life of Motty's family. Click Here or Go To: www.charidy.com/moti