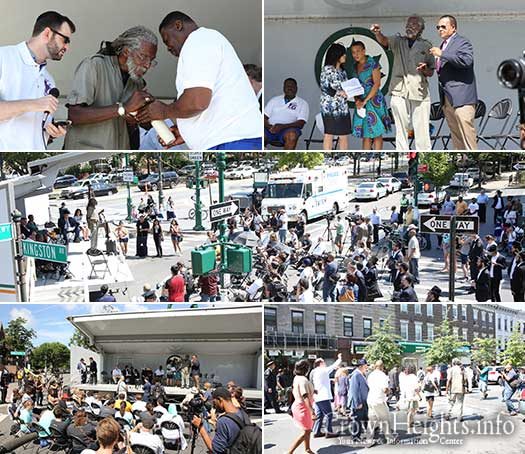 People gathered on Eastern Parkway today, Sunday, for a 'festival' marking 25 years since the Crown Heights Riots. The event was the first part of a controversial 'day of festivities' which was organized to commemorate those dark and tragic days.
Sitting on a podium, a number of community activists, clergy and politicians spoke to a small gathered crowed and members of the media remembering how the riots unfolded – beginning with the tragic death of 7-year-old Gavin Cato, which was followed by the brutal murder of 29-year-old Yankel Rosenbaum, HYD, and three days of rioting that rocked Crown Heights.
The event was organized in part by Mrs. Devorah Halberstam, who lead off by speaking about her memories of the riots and her personal loss.
Richard Green of the Crown Heights Youth Collective, who was very active in the days following the riots and part organizer of the event, recalled his meeting the Lubavitcher Rebbe and receiving a dollar from him. "His words calling Crown Heights one community are still with me to this day."
The events were not without controversy.
Noticeably absent was Norman Rosenbaum, brother of Yankel Rosenbaum, who refused to attend the day's events. "Any celebration or promotion of racial harmony I wholeheartedly endorse, however this is not a time to celebrate. Now is not a time to celebrate the wrongs and it disregards the anti-Semitic violence that took place" said Rosenbaum before the event.
Instead, a solemn memorial ceremony took place Friday on President Street and Brooklyn Avenue, the site where Yankel Rosenbaum HYD was stabbed and beaten to death, before a crowd of some 50 people. There, the prayer of Keil Molei Rachamim was recited, followed by Kadish by Norman Rosenbaum.
Though present, Mr. Carmel Cato, father of Gavin, refused to address the crowd and instead lit a candle and quickly left – preferring not to march to the site where the 'festivities' were to take place.
"I was shocked to learn that [Norman] Rosenbaum found out about the event from news reports and not from the organizers of the event," said Yaacov Behrman, a community activist who is friends with the Rosenbaum family. "No one had the decency to consult with or inform the Cato or Rosenbaum families despite planning this event for over a year."
When asked who was behind the events, Mr. Rosenbaum responded that it was a conglomeration of local community organizers – among them the Anti Defamation League, whose silence during the riots was deafening. "They were not here during the riots, they were not here at the funeral, but they are here now to celebrate," he said.
Rosenbaum also noted how the flyer advertising the event failed to mention the word 'riots', instead calling them "the events that took place 25 years ago."
Following the speeches and a candle lighting ceremony, around two dozen activists and politicians marched to Park Place and Kingston Avenue, where a carnival style 'festival' was to take place all afternoon.