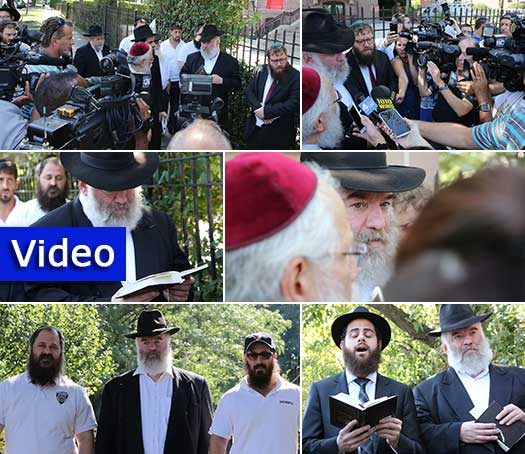 A somber memorial service was held today to commemorate the 25th anniversary of the murder of Yankel Rosenbaum, HYD, who was stabbed to death shortly after the Crown Heights Riots broke out in the summer of 1991.
A Crowd of around 100 people, along with several media outlets, gathered for the brief memorial service, which began at around 10:00am Friday morning, on the corner of President Street and Brooklyn Avenue, the spot where the murder took place.
Community activist Yaacov Behrman introduced Norman Rosenbaum, brother of Yankel, and thanked all those present for coming.
Renowned educator Rabbi Shea Hecht began the service by reciting Psalms, followed by Chazzan Rabin who sang Keil Malei Rachamim.
Norman Rosenbaum recited Kadish for his brother, after which he addressed the media. He noted that this day in 1991 marked the start of three and a half days of rioting against the Jews, during which not only was his brother killed, but 176 people were injured.
Mr. Rosenbaum slammed those "intellectually dishonest" reporters who gave a false narrative of the riots, portraying the conflict as two-sided. "My brother Yankel was brutally murdered only because he was a Jew," he said.
He also pointed out that most of the rioters were outsiders who came to this community and took advantage of a tragedy – the accidental death of 7-year-old Gavin Cato by a Hasidic motorist – to incite hatred and violence.
"It has been 25 years and [Yankel Rosenbaum] has yet to be recognized that he lived and died because he was a Jew" said attendee Aron Hershkop following the memorial service. "The whole community should have been out there today, to identify with the way he died, for what he died, for whom he died. He died for us. He was part of our union. He wore our uniform."