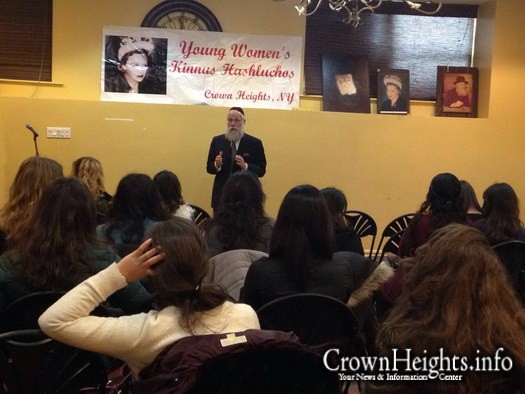 Over the weekend of Chof Beis Shvat a Kinus for young women ran parallel to the Kinus Hashluchos with programming specific for still unmarried young women. One of the highlight sessions was given by Rabbi Shea Hecht titled "13 Secrets of Successful Dating" in dealing with today's Shidduch crisis.
This past Friday, during the Young Women's Kinus, Rabbi Shea Hecht addressed over a hundred post-seminary girls on the topic of "Thirteen Secrets to Successful Dating'.
Many of the girls expressed that they attended that day in order to hear this specific talk, since the topic is so relevant and so many girls feel the need for good advice in this area. The girls were eager for the opportunity to hear a veteran dating coach discuss this important topic and to have the chance to ask questions.
Does your average girl or boy of marriageable age agree that the dating system which is in place actually works? If so, consider the astounding amount of young adults above the age of 25 who are not yet married.
Where does the problem behind this crisis lie?
Rabbi Hecht, in his signature down-to-earth and humorous manner, intrigued the girls by presenting to them his Thirteen Secrets to Successful Dating. Are the young men and women making sure to communicate clearly to their parents, or whoever is helping them, what it is they're looking for? And vice versa?
Are the young men and women who are going on dates dismissing the other person after just one meeting? Are they truly aware that the first date is NOT an audition for marriage, but rather an audition for a second date?
Rabbi Hecht engaged the girls in a riveting discussion on these matters, pointing them in the right direction to make their own experience while in this stage of their lives, a successful one. He addressed questions such as "How do I know what I am looking for?" and "Is it necessary to share my past with my date?"
Also discussed were topics such as how to keep the first date light, certain negative behaviors to be on the lookout for, knowing the right time to approach certain subjects, and your actual decision making.
An issue which also came up is whether there are areas in which the parents and Shadchanim can improve their methods and attitudes? Are families perhaps being too picky, only to find their child eventually engaged to someone whom they had turned down years before?
Rabbi Hecht touched on many important aspects of the Shidduch scene and gave the girls lots of food for thought. This practical and informative session was certainly a highlight of the convention.