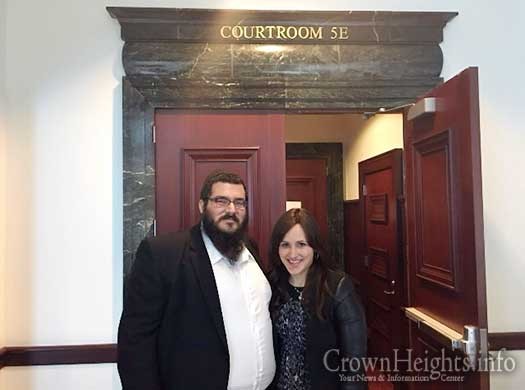 Rabbi Sholom Shuchat and his wife Chaya outside the courtroom where he was sentenced earlier today.
Rabbi Receives No-Jail Sentence in Forced 'Get' Case
Rabbi Sholom Shuchat, a Crown Heights rabbi, received a no-jail sentence today in New Jersey federal court for his role in a forced 'Get' case.
Shuchat was one of several men, including two rabbis, who were arrested in October of 2013. One of those rabbis, Mendel Epstein, and his son, David Epstein, both of Lakewood, were indicted for the roles prosecutors say they played in the plot, threatening to use electric cattle prods on recalcitrant husbands to force them to grant their wives a 'get', a religious document needed for an Orthodox Jewish divorce.
The FBI used undercover agents to pose as a woman seeking a religious divorce and her brother who was allegedly willing to pay for the husband to be kidnapped.
Earlier this week Moshe Goldstein, 32, was sentenced to 4 years in prison, while a day later David Hellman, 33, and Simcha Bulmash, 32, were sentenced to 44 and 48 months in prison, respectively.
Today, Thursday, Avrohom Goldstein,36; Ariel Potash, 42; and Sholom Shuchat, 31, were to be sentenced.
Sources told CrownHeights.info that Shuchat, who plead guilty in June of 2014, was sentenced to time served and no additional jail time, along with two years of supervised release with the first six months being house arrest.