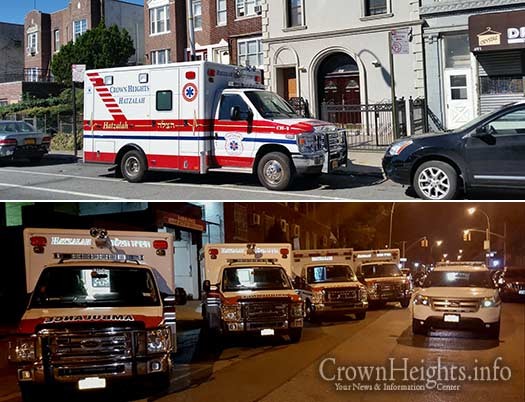 Hatzalah of Crown Heights recently took delivery of its newest ambulance, which will be the 4th one in its growing fleet.
This new ambulance is joining their three other ambulances and a 'fly-car,' which stand at the ready for any emergency medical need.
Citing the growing community and additional volunteers who have joined the ranks of Hatzalah, administrators saw the need to add an additional ambulance to its fleet.
The new ambulance will be parked in front of Empire Shteibel off of Brooklyn Avenue, and will enable volunteers who live in the southwestern part of the neighborhood to get to an ambulance quicker.
Two other ambulances are parked in front of 770, while another is parked in the Hatzalah garage on Schenectady Avenue and Carroll Street.
The new ambulance, dubbed CH-4, was delivered ahead of Sukkos.
Sources in Hatzalah told CrownHeights.info that the cost of the new ambulance is still not fully covered, and they are seeking donors to come forward and help offset the costs. You can donate through their website at Hatzalah.ch.