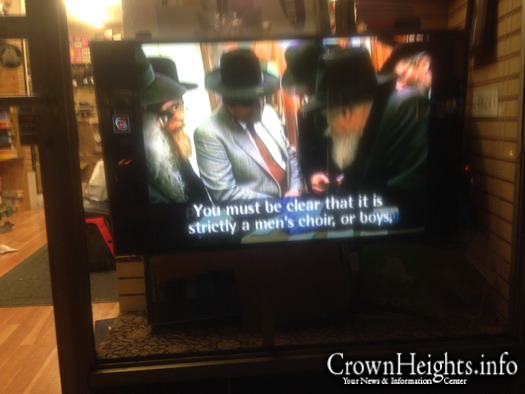 Crown Heights residents may recall seeing a 55-inch screen in Kinston Bake Shop last year during Tishrei, playing clips of the Rebbe speaking about Tznius. Well, they are about to see round two – only this time, there will be three screens in three different locations.
"Talking Windows" is the name of this new round. The title was the brainchild of master producer Ronen Peled of Kinus Hashlichim banquet fame, who contributed the clips' introductory heading. Nor was he the only one who lent his aid and expertise to make this project happen.
JEM gave the clips and Messrs. Yonoson Hackner, Tzion Yakubov and Itzhak Batash donated a combination of moral, technical, and monetary support.
The participating stores owners are Mr. Gutman Skablo (E& I Treasure, shoe store), Mr. Salomon Gavrielov (Yehuda, barber shop), and Mr. Simcha Stroh and Mr. Gershon Newmann (Sterling Electronics).
"We hope to triple the awareness in the Rebbes's Koch in Tznius, "said Mrs. Chana Scharf, coordinator of Bnos Melech B'Yachad, the organization behind the project, "We want to see with our eyes, the Brochos that the Rebbe reiterated so many times."
"All in all, these "Talking Windows," clips which will run on a six-minute loop, should be a wonderful addition to the upcoming Shluchim convention weekend." she added.
Bnos Melech B'Yachad hopes to continue running "Talking Windows" – the Rebbe talking through the store windows of Crown Heights – for several weeks following the convention and plans to have a special production ready for Kinus HaShluchos on Chof Beis Shvat.
Any Crown Heights store wishing to host an additional screen should please email Tznius1@Verizon.net