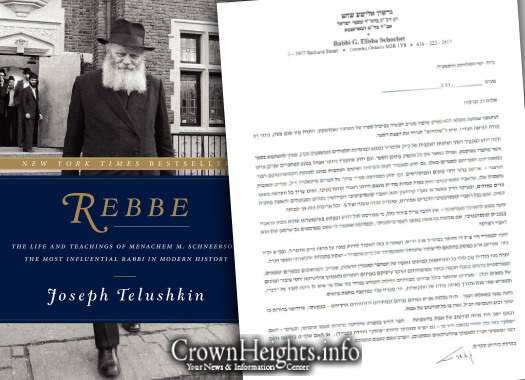 Rabbi Schochet Issues Clarification on Telushkin Ban
Rabbi Gershon Elisha Schochet, Av Beis Din of Toronto, released today a second letter in response to a general misunderstanding of his first letter, in which he espoused a Halachic prohibition on promoting the book of Rabbi Joseph Telushkin.
Rabbi Schochet told CrownHeights.info that the original letter was written by him to a dear friend of his, and was not intended to be disseminated to the general public, especially not outside the Chabad community (which was why it was written in Hebrew).
He expressed dismay that many in the secular media and other enemies of Chabad used his letter to portray the movement as closed-minded and against open discourse, accusations which could not be further from the truth.
"If I had know the letter was going to 'go viral,' I would have used different words," he said, and would have addressed the subject much more delicately. "However, I stand by everything I wrote," he reaffirmed.
Rabbi Schochet's letter can be read below. Click on the image to enlarge the text: