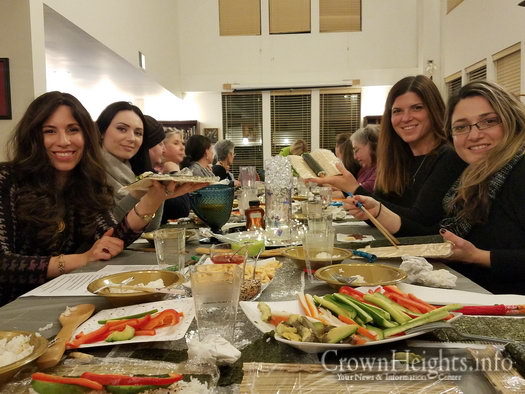 Sushi-making and holiday giving were the themes of Chabad of Orange County's recent Women's Circle event at the Chabad Center in Chester, NY.
Chana Burston, leader of the group, began the evening with an introspective talk on the Kabbalah of Kosher food.  The ladies then enjoyed making their own sushi rolls under the direction of local chef Janisa Brunstein.
Participants enjoyed an array of Asian dishes and desserts, and then proceeded to create beautiful gift bags for Safe Homes Women's Shelter of Orange County.  The bags were assembled from a generous amount of new toiletries and winter gloves and scarves – all donated by the evening's participants.
"Community members were excited to purchase items for Safe Homes.  The holiday season is all about giving and the Jewish Women's Circle wants to be a part of it!" said Chana Burston, who co-directs the Chabad of Orange County with her husband, Rabbi Pesach.
"One of the messages of Chanukah is that we should aspire to always do more good", Chana Burston continued, "Each night of Chanukah we add another light to symbolize the importance of increasing in good deeds and spreading light to the world through acts of goodness and kindness."