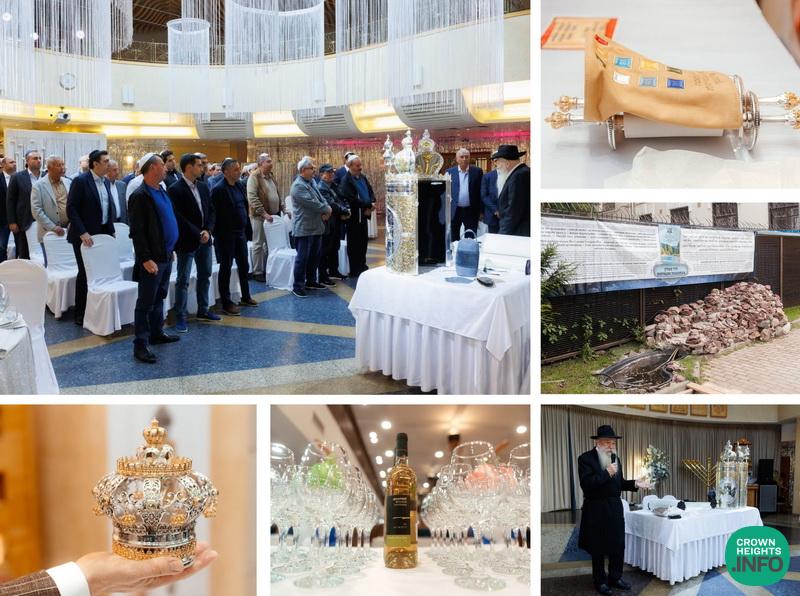 Three New Torah Scrolls Dedicated This Week in Russia's Capital
The sounds of Torah that could be heard coming from Moscow's various educational institutions as the school year began in Elul, were continued with great joy in the triple celebrations of three new Torah scrolls into three different shuls in Moscow.
Just before Rosh Hashana, a modest but emotional Hachnasat Sefer Torah ceremony was held to celebrate the new and very mehudar Torah Scroll that was donated to the Marina Roscha Shul by philanthropist Mr. Dan Chernik in honor of Russia's Chief Rabbi Berel Lazar shlit"a. The event was beautifully emceed by the Director of Moscow's Jewish Communities, Shliach Rabbi Mordechai Avraham Weisberg, and Rabbi Lazar was honored with writing the last letters in the scroll.
Just a few days earlier, a new Torah Scroll was dedicated in the Bolshaya Bronnaya Shul under the leadership of Rabbi Yitzchak haKohen Kogan.
A third Torah Scroll was donated to the Jewish Kavkazi community "Geula" under the leadership of Rabbi Avraham Ilyaguev. The Hachnasat Sefer Torah ceremony was celebrated with great joy by the donor and community members.
These events are just a small reflection of the many and varied educational and Torah activities that take place throughout the year in the vibrant Jewish community that was established by Russia's Chief Rabbi. These include Russia's Chief Rabbinate, the Kashrus Committee, various charities and assistance programs as well as Jewish services for Russia's Jews wherever they may be. This was expressed during the uplifting days of Rosh Hashana which were celebrated with a great awakening in the hundreds of Jewish Communities throughout Russia thanks to the many Rabbis and Shluchim, as well as Yeshiva students who were sent to help arrange the High Holidays and Sukkot in many of the smaller communities.
Photography: Levi Nazarov