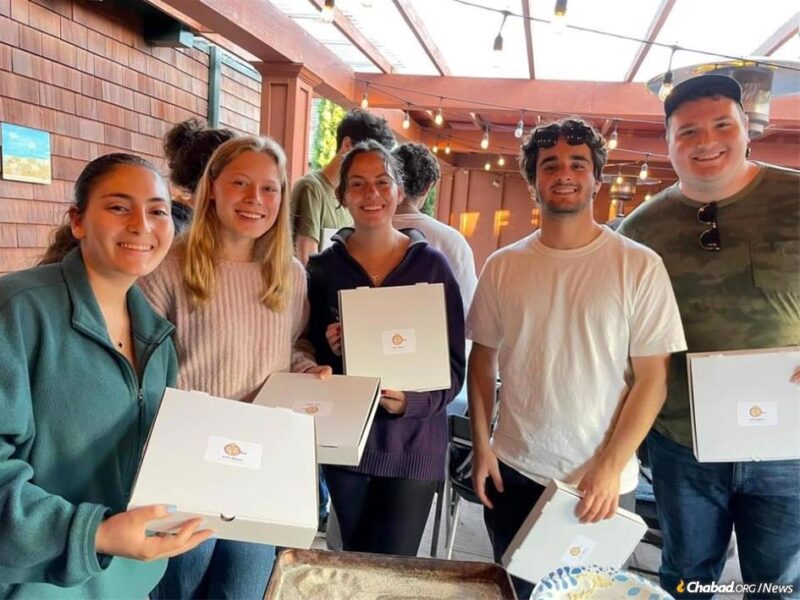 Students at the University of California at Berkeley attending the school's first Kosher Education and Awareness Day, featuring build-your-own artisan pizzas, raffles and educational carnival games.
Vandals' Prank at UC Berkeley Spurs Kosher Awareness Event
by Ellen Braunstein – chabad.org
The dumping of crawfish shells at a Jewish fraternity house at the University of California, Berkeley caused Jewish students to feel targeted, but it ultimately also created an opportunity to educate the community about keeping kosher. Last week, the Rohr Chabad Jewish Student Center held its first Kosher Education and Awareness Day, featuring build-your-own artisan pizzas, raffles and educational carnival games.
The evening event, attended by 125 people, countered the vandalism on Aug. 26, where shellfish, which is forbidden by kosher law, was tossed on the Alpha Epsilon Pi fraternity house porch and through an open window.
At first, antisemitism was suspected. But UC Berkeley police said the vandalism was not considered a hate crime because non-Jewish fraternities were also targeted. At the time, officials said that the incident would be investigated.
"It was definitely a big reason we had a kosher day," said Elijah Feldman, 21, a Chabad board member and AEPi brother who lives in the fraternity house along with 20 other Jews.
Feldman, who keeps kosher, heard the commotion and saw and smelled the trashed crawfish.
The AEPi national office paid for a cleaning crew to take care of the mess.
"It may not have been a hate crime, but it was an insensitive and ignorant act," said Feldman, who is a psychology major with a minor in Judaic studies.
"At kosher day, we let the community understand what kosher is so maybe something like this wouldn't happen again," said Feldman, whose fraternity helped promote the event.
Creativity in Teaching About Kosher
"It was a really good turnout. A lot of fun and good food," said Shay Cohen, Chabad student president and a former student senator. "Some people have no idea of what it means to be kosher. That's why we held the event."
Of the shellfish vandalism, Cohen, a 20-year-old business major, said, "I think once it became clear that they weren't intentionally vandalizing with non-kosher food, it eased our fear of being an antisemitic target."
Students prepared more than 300 artisan pizzas and carnival games tested their knowledge of kosher laws. They included a chance to dunk the rabbi with a bucket of water as a prize for winning a related trivia game, while a tic-tac-toe game helped define what makes animals kosher and non-kosher. Participants also learned about kosher symbols in a dart game.
Rabbi Gil Yosef Leeds, co-director of the Chabad Jewish Student Center with his wife, Bracha Sara, said "we basically took this as an opportunity to turn this incident that left a bad taste in their mouth and a bad smell on their porch into a great educational, fun time and to spread awareness to the greater community that we wanted students to be proud of their culture and observances and not feel intimidated by it."
The Importance of Kosher on Campus
Providing kosher food to Jewish students on college campuses has been emphasized by Chabad for decades. As far back as the early 1950s the Rebbe—Rabbi Menachem M. Schneerson, of righteous memory—emphasized the importance of providing kosher dining for Jewish students, highlighting the important social environment it offered Jewish students during what can be a very vulnerable and difficult period of their lives.
In a conversation in the 1960s with the late Rabbi Ephraim Sturm, past executive vice president and CEO of the National Council of Young Israel, the Rebbe analyzed some of the most acute problems a Jewish student attempting to keep his or her faith were having on campuses. Even those students who had arrived committed to Jewish life would begin stumbling and "[a]fter a while, the peer group will pressure him," Sturm recalled the Rebbe explaining to him in a Jewish Educational Media interview. "Not because they mean to pressure, not because they are opposed to what he is doing, but because that's just how life is. … [H]ow can he not yield to that pressure?"
The Rebbe's advice then was simple: Create a program to bring together all the young Jewish men and women in one place at their most vulnerable time, which was not in the classroom—when students are busy with their notes and school work—but in social settings. This reality has remained more or less unchanged in the half-century since. And while Chabad has made great strides in providing kosher opportunities on the 850 campuses worldwide where it has a presence, there is always more to be done, said Leeds.
"There are still thousands of Jewish students on campus here who don't even know what kosher is," said the rabbi, whose center has nearly 500 participants out of an estimated Jewish student population of 4,000. "So, we have our work cut out for us."
Hundreds of students on the UC Berkeley campus keep kosher, said Leeds. Chabad fills that need by sponsoring kosher Friday-night dinners; Shabbat-morning Kiddush; Taco Tuesdays; Bagels, Lox and Tefillah, (their form of a "BLT"); and kosher food delivery. There is also a Chabad-supervised kosher dining area that opened in 2016 within the campus food court.
Bridgette Meshkani, 20, Greek life liaison for Chabad, got the Panhellenic Council involved in promoting the kosher fair. She also helped create activities for the fair. "I think we had a really good balance between Jewish students and non-Jewish students," said Meshkani, an economics major. "We were really successful in teaching the attendees about the laws of kashrut and why it's so important to us."