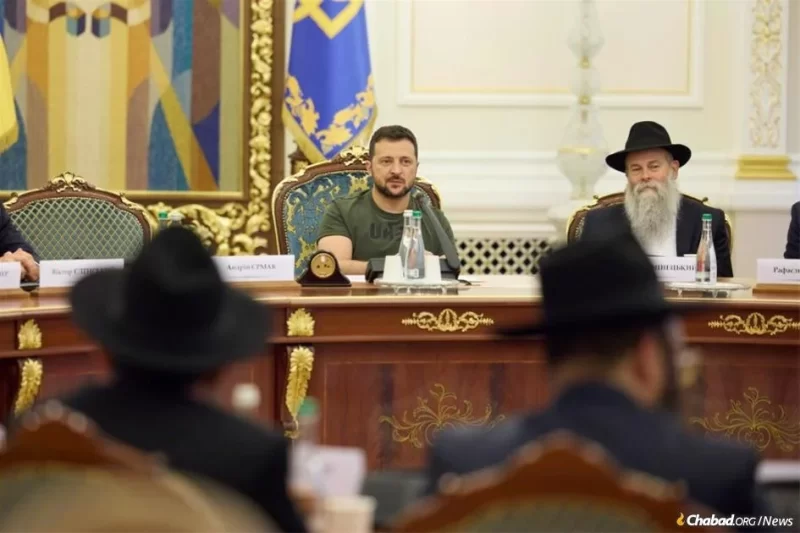 Ukrainian President Meets with Chabad Rabbis Ahead of Rosh Hashanah
by Yaakov Ort and Faygie Levy Holt – chabad.org
In a landmark meeting on the day before the onset of Rosh Hashanah, Ukrainian President Volodymyr Zelensky met with 32 Chabad-Lubavitch rabbis and other communal leaders from across the beleaguered nation, highlighting their widespread impact on Ukraine's Jewish communities and the country as a whole. This assembly, held in the president's office, was Zelensky's first formal meeting with the nation's Jewish leadership since the onset of the war a year and a half ago.
Expressing his gratitude to the group for their tireless efforts in providing humanitarian relief and spiritual support, Zelensky said, "Thanks to you, the illustrious Jewish community, with its rich history, thrives here. You contribute not only within Ukraine but also beyond its borders, benefiting both the Jewish and broader populations."
"This was a very important meeting," said Chabad-Lubavitch Rabbi Meir Stambler, chairman of the Federation of Jewish Communities in Ukraine (FJCU). "It was the first meeting with all the rabbis since the war began, so we gave him an update of everything we've been doing during the war. Thank G‑d, it's been a lot of really amazing work."
During the meeting, the shofar was blown and blessings were said for the safety of the country. "We are in a war and it's hard for everyone," Stambler added. "It's a time to strengthen our belief in G‑d Almighty and redouble our efforts, and that's what we've done."
In the rabbis' presence, Zelensky also met with 15 Jewish members of the Ukrainian armed forces and gave them medals for their service. "On the Eve of Rosh Hashanah," he said in a statement, "I met with representatives of the Ukrainian Jewish community, including fighters and rabbis. Thank you all for supporting our country and our pursuit of peace."
Among the servicemen was a soldier who moved to Israel before the war and returned to fight for Ukraine, and a Shabbat-observant soldier from Kharkov who was injured in battle and once back on his feet returned to the front lines.
Chabad Rabbi Shmuel Kaminezki, chief rabbi of Dnipro, spoke to the assembled about the meaning of Rosh Hashanah, noting how Ukraine's Jewish community "is intrinsically bound to Ukraine's destiny and future." He extended his best wishes to Zelensky for his dedication to the nation and expressed deep appreciation for the president's unwavering devotion to all its citizens, regardless of faith or background.
Echoing similar sentiments, Rabbi Avraham Wolff, director of Chabad of Odessa and the region's chief rabbi, highlighted the emotional depth of the gathering. "Hearing the president wish us shana tovah (a good year) in Hebrew was a deeply moving moment for everyone present," he said.
Drawing from the history in Ukraine, Rabbi Moshe Moskovitz, director of Chabad of Kharkov, pointed to the decline of Communism as a pivotal moment in the resurgence of Jewish life in Ukraine. "Three and a half decades after Communism, we see Jewish life blooming here despite all hurdles," Moskovitz said. "This reaffirms our belief in an imminent Redemption."
Rabbi Nachum Ehrentreu of Chabad of Zapophrizia told Zelensky about the bomb shelter that Chabad had built in their city that can hold several hundred people, and the president expressed his gratitude.
Since 1990, when the Rebbe—Rabbi Menachem M. Schneerson, of righteous memory—sent the first permanent emissaries to what was then still the Soviet Union, Chabad's network of emissaries has built an expansive network of synagogues, Jewish educational programs and social-service organizations across 32 major cities in Ukraine, serving hundreds of small towns and villages. Chabad rabbis and their wives are often the only Jewish communal address in an entire region and are responsible for creating modern Ukraine's thriving Jewish infrastructure. The last time Zelensky had formally met with Jewish leaders was in 2019, when he met with six leading Chabad-Lubavitch rabbis as president-elect.
When the war began in February 2022, this network of Chabad emissary families—created to foster Jewish life in Ukraine—was forced to switch to a war-time footing and begin an unprecedented humanitarian effort.
The rabbis briefed Zelensky on the work of the Jewish Relief Network Ukraine (JRNU), Chabad's boots-on-the-ground aid network of emissaries and volunteers. They told him how an estimated 50,000 people will receive food and other humanitarian aid in advance of Rosh Hashanah this year, produced and distributed through JRNU, Some of the recipients—mainly the infirm or elderly—will receive food that can be prepared at home, including basics like buckwheat, pasta and rice. Thousands of others will be partaking in communal holiday meals at their local Chabad center or synagogue.
This is the Jews of Ukraine's second Rosh Hashanah living in a war zone. During the last year-and-a-half of incessant fighting, Chabad-Lubavitch emissaries throughout Ukraine have seen more and more Jews choosing to connect with their heritage. And as the Jewish New Year dawns they are determined that the holiday be a beautiful and meaningful one.