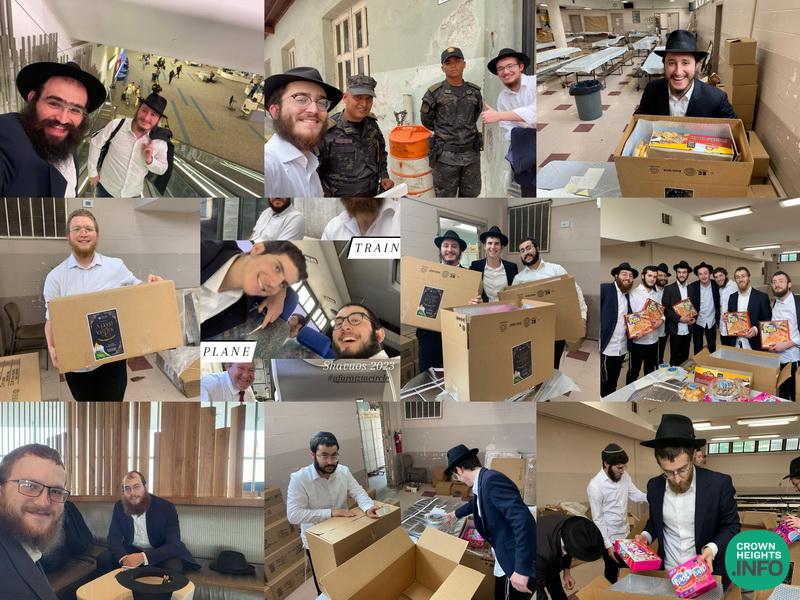 This Shavuos Join The Bochurim In Remote Jewish Communities Around The World
Experience the awe-inspiring journeys of 190 young Bochurim as they embark on an extraordinary mission to spread the spirit of Shavuos to 95 remote Jewish communities across the US and South America. Join the Merkos Shlichus Whatsapp Status and be part of this remarkable adventure!
Hundreds of dedicated Bochurim are traveling today, carrying boxes filled with tantalizing dairy delicacies, as they journey to join "Ufaratzta Shluchim" in small Jewish communities across the US and South America. These communities, often located at least a two-hour drive away from the nearest Jewish hub, are eagerly awaiting their arrival.
Shavuos, one of the three major Jewish Yomim Tovim, tends to be overshadowed by its counterparts. But not anymore! These passionate young rabbis are determined to infuse these unsung communities with the true joy of Shavuos. From leading engaging children's programming to facilitating Aseres Hadibros readings, they will create an unforgettable experience for young and old alike. Moreover, they will be distributing holiday packages, ensuring that the spirit of Shavuos touches every corner of these communities.
"The power of the individual can never be overstated," added Rabbi Mendy Kotlarsky, executive director of Merkos 302. "But this Shavuos during Hakhel, when so many Yidden in remote cities around the world will also be standing together in shul hearing the Aseres Hadibros, we will be tapping into the infinite power we access when we stand united."
In many of these distant towns, Chalav Yisroel Kosher Dairy is a rare commodity, making it challenging to observe the holiday's customs. Fear not, as these boys are prepared! They are bringing an array of mouthwatering dairy delicacies in their luggage, ensuring that everyone can partake in the customary festive meals.
Join the Merkos Shlichus status as we follow their extraordinary journey, meaningful encounters and stories in remote cities such as:
– Laramie, Wyoming
– Corpus Christi, Texas
– Palmer, Alaska
– St George, Utah
– Nanaimo, British Columbia
– Billings, Montana
– Huntsville, Alabama
– Duluth, Minnesota
– Las Cruces, New Mexico
– Wichita, Kansas
– Baton Rouge, Louisiana
– Prescott, Arizona
Don't miss out on this incredible opportunity to be part of a movement that brings joy, knowledge, and unity to communities in need. Click here to subscribe to the Merkos Shlichus Whatsapp Status today and join the adventure that will ignite hearts and uplift souls. 
For any inquiries or sponsorship opportunities, click here reach out to Merkos 302 on Whatsapp.
Together, let's make Shavuos a truly unforgettable experience for all!