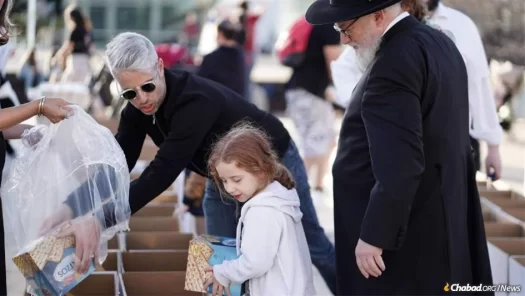 Passover Project in Heart of Tel Aviv Unites Jews of All Backgrounds
Chabad.org Staff
A cultural center in the heart of Tel Aviv became a focal point for acts of goodness and kindness last Thursday, when residents and visitors joined together for a common cause—helping those in need before Passover.
Throughout the day, neighborhood families and visitors to Habima Square—the popular tourist site at the corner of Rothschild Boulevard and Dizengoff Street—joined volunteers from Chabad-Lubavitch of Tel Aviv to pack Passover food boxes. They also participated in a matzah-baking workshop that included inspiring stories and instructions about how to make the most of the holiday. The work of packing the food baskets continued into the evening.
Rabbi Yosef Gerlitzky, rabbi of the City Center neighborhood and director of Chabad of Tel Aviv-Yafo, said that many participants thanked Chabad for the opportunity to take part in the project.
"It is so very appropriate to join together in positive activities that connect us all—acts of kindness and giving to those who need our help," he said.