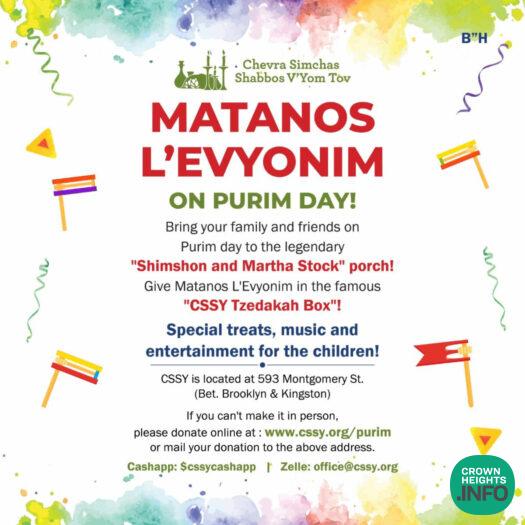 This Purim, Donate and Help the Needy in YOUR Community
For decades, CSSY's famous Tzedaka box has been a beloved Purim fixture in Crown Heights. Who doesn't remember the inimitable Shimshon Stock, who dedicated his life to bringing joy to the needy in our neighborhood and beyond?
This Purim, donate to the needy of YOUR community. Your Matanos L'evyonim will ensure everyone in our community can truly celebrate and feel the Simcha of Purim.
As we prepare for the most joyous day on the Jewish calendar, it's easy to get caught up in the excitement of themed Shalach Manos, extravagant costumes, and gourmet feasts. But for many in our community, the focus is simply on putting food on the table for their families.
However you plan to spend your Purim this year, don't forget the most important mitzvah of the day- Matanos L'evyonim.
"It is preferable for a person to be more generous with his donations to the poor than to be lavish in his preparation of the Purim feast or in sending Shalach Manos. For there is no greater and more splendid happiness than to gladden the hearts of the poor, the orphans, the widows, and the converts. " Rambam Hilchos Megillah
This Purim, ensure that a family in Crown Heights can sit down and celebrate Purim with enough food to feed all their children.
This Purim, your generosity will allow a mother to go to the grocery store and buy food to feed her family.
This Purim, donate and help the needy in YOUR community. These are YOUR neighbors, YOUR friends, YOUR son's chavrusa's family, and YOUR daughter's classmate. Please give generously and ensure that EVERYONE in our community can enjoy Simchas Purim.
Visit the famous Shimshon and Martha Stock porch at 593 Montgomery St. (Between Brooklyn & Kingston) or donate online at www.cssy.org/purim
Zelle: office@cssy.org
Cashapp: $cssycashapp
Paypal www.paypal.me/cssy