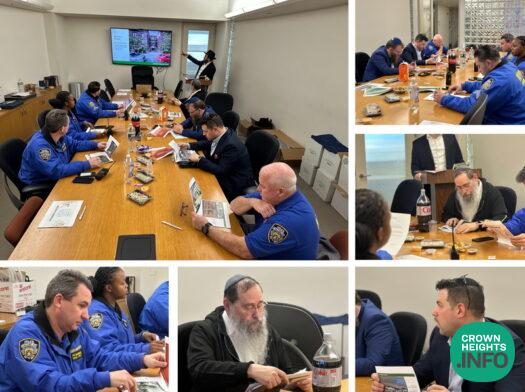 Law Enforcement Meets With Kinus Staff Leading Up To The Annual Kinus Hashluchos
The Vaad Hakinus met with representatives of various law enforcement agencies in NYC to prepare for the 33rd annual International Kinus Hashluchos this week. The yearly meeting was productive, and both sides look forward to working together to ensure the Security and success of this year's Kinus.
Being a Hakhel year, The conference is set to be the largest yet and will see many of nearly 6,000 Shluchos from around the world participating. Officials from the 71st and 77th precincts, Brooklyn South, and the NYPD Counterterrorism Bureau were all represented at the meeting, which was held in the JCM conference room.
"We are very grateful to the members of the New York Police Department for their help in ensuring the safety of the thousands of participants who will be coming to NYC for the Kinus," shared the Kinus coordinator, Rabbi Mendel Kotlarsky, "Security is always our top priority. We are here to ensure that everyone in attendance feels safe throughout the entire conference."