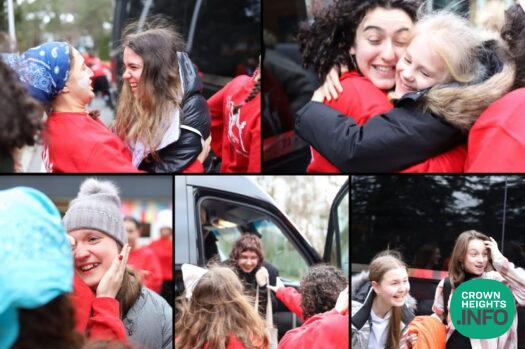 How Chabad of Poland and Camp Yeka Brought Smiles to Refugee Girls
They came to camp with nothing.
These were not excited children lugging duffel bags and heavy suitcases with outfits and sleeping bags and snacks.
These were Ukrainian refugees, with little more to their name than the clothing on their backs. From the six-year-old orphan from Odessa to the 17-year-old who still wakes up with nightmares of the explosions she heard as she ran from her home in Kharkiv — a home she may never be able to return to — these were not your typical campers.
Many had not smiled since that fateful February day when tanks rolled into Ukraine and everything changed. In a moment, their innocent, carefree lives disappeared amid the sounds of wailing sirens and the impact of missiles.
The campers are unique, so the camp had to be as well.
Since war in Ukraine broke out, more than 8.5 million refugees have flooded neighboring Poland, and Chabad of Poland has worked 24 hours a day to aid thousands of Jewish refugees. Overnight, the Chabad center became a refugee absorption center, with hot meals being distributed along with aid of all sorts to people who had fled their homes with only what they could carry in their hands.
The immediate needs were food, clothing and shelter. So Chabad rented 100 hotel rooms, secured an institutional kitchen and large dining room, and began feeding and housing hundreds of refugees each day. Chabad distributed infant formula, diapers, strollers, cribs — everything parents needed for their babies.
Chabad rented apartments for families of refugees to stay in from landlords who charged a year's rent up-front, not trusting in the refugees' ability to pay. Chabad furnished these apartments completely free of charge. Chabad arranged classes in Polish and English and helped with job hunting. They even created a daycare center so that refugees could drop off their children and be able to seek employment, work, visit their embassy, or simply go shopping.
And they didn't stop there.
As the war dragged on, they realized that what refugee children needed was to feel normal again; to smile and laugh again; to have fun again — like every other child.
So they once again sprang into action, and Yeka Girls — Poland was born.
This would be a winter camp staffed by experienced counselors and professionals, designed to ensure campers' emotional and spiritual needs would be met as well as their physical needs.
Camp Yeka Girls has been a destination for Ukrainian children for years, as their mission of providing a Jewish camp experience to underprivileged children has led them to host — free of charge — Jewish Ukrainian children each year. Now, with so many of those children displaced and far from their homes, Yeka Girls partnered with Chabad of Poland — pooling their experience and resources to ensure these refugees would have a truly wonderful experience in Poland.
They arrived with very little — some, recently arrived from Ukraine, lacking even basic wardrobes and toiletries. Camp stepped in, ensuring every girl had the clothing and essentials they needed — free of charge, of course.
As they met their counselors and friends, smiles spread across their faces — the first smiles since their lives had been torn apart by war.
They baked challah, they jumped in a trampoline sports complex, they had a Master Chef competition — and all that was in just one day. Day after day was filled with fun and excitement, as laughter spread where tears had flowed for too long.
Their emotional needs were carefully addressed as Esther Rosenson, a Jerusalem-based therapist, joined Camp Yeka to offer private counseling as well as group therapy sessions. Along with Dr. Dovid Fox of Chai Lifeline, they also trained Camp Yeka staff members on how to take care of these campers who had gone through such unimaginable trauma.
They were visited, too, by Rabbi Yitchak Dovid Grossman of Migdal HaEmek and Rabbi Berel Lazar, Chief Rabbi of Russia. The rabbis were deeply impressed by the care that was placed in ensuring campers had a wonderful Jewish experience, and they were taken by the girls' strong faith despite the hardships they had endured, and by their pride in their Jewish identity. The rabbis encouraged the girls to "take" the light and joy they received at camp and internalize it for the rest of their lives; to spread it in their families and to those around them.
As they return to their day-to-day lives, these girls will know that they are part of a community; part of the Jewish Nation, which cares for them always. They will know that thanks to the herculean efforts of Chabad of Poland and Camp Yeka Girls, and they will know that thanks to the many philanthropists and visionaries who have stepped forward — and who continue to step forward — to underwrite the tremendous and necessary expenses of caring for these precious Jewish souls.
They came to camp with nothing — but they left with everything.
Photo Credit: Chabad of Poland/Camp Yeka Girls