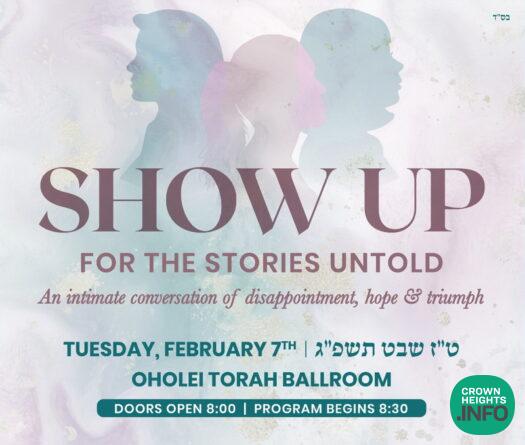 TONIGHT: Bonei Olam Chabad To Host Women's Hakhel Event In Crown Heights
Bonei Olam Chabad, a non-profit organization dedicated to helping couples struggling with fertility, is excited to announce our upcoming awareness and fundraising women's hakhel event on February 7th, Tes Zayin Shvat in Oholei Torah Ballroom. This event will bring together community members and leaders to raise awareness about the challenges facing couples struggling with fertility, as well as to raise funds to support our mission of providing financial assistance, treatment, and research to those in need.
Since our initial Show Up event in 2020, the community has shown up in overflow of numbers, surpassing each previous year. This year, for the third time, we ask once again to come and show support. Show up for the stories untold; an evening of intimate conversation of disappointment, hope and triumph with a musical performance by Chayala Neuhaus.
Together, we can make a difference in the lives of those struggling with fertility and ensure that every couple has the opportunity to start a family. Please mark your calendars and join us on February 7th. Doors open at 8pm, program begins at 8:30. Wine, dairy hors d'oeuvres and desserts from local talents will be served.
Thank you for your support.