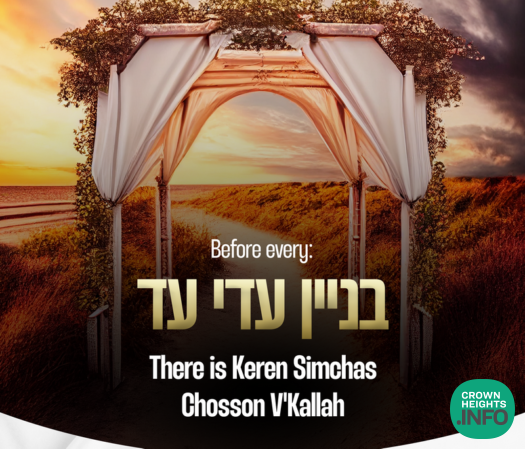 The Future Jewish Home Depends On YOU!
"Binyan Adei Ad"
Have you ever taken a minute to contemplate its meaning?
What is "everlasting"?
What are we "building"?
Indeed, a home and family based on the values of Torah and Mitzvos has the attributes to not just last, but to be "everlasting"!
The foundation for a "Binyan Adei Ad" is set at the wedding, and Keren Simchas Chosson V'Kallah is there to make sure every single Chosson and Kallah have the wedding of their dreams.
Imagine a wedding without Flowers!
KSCVK spent over 275 thousand since 2018 on flowers alone!
Imagine dancing at a wedding without music!
In the last year, KSCVK spent over 57 thousand on music, enabling family and friends to dance the night away!
The philosophy: "EVERYONE deserves a truly beautiful and memorable wedding!"
Today, you have the opportunity to not only impact the lives of so many brides and grooms, but indeed, impact generations to come!
Before every "Mazal Tov!", there is KSCVK!
Before every "IYH by you!", there is KSCVK!
Before every Binyan Adei Ad, there is KSCVK!
Let's come together and support Keren Simchas Chosson V'Kallah, and enable them to bring so much joy to so many more Chossanim and Kallahs on their special day.