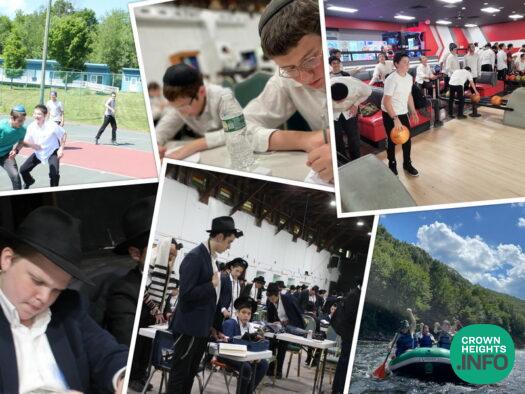 Oholei Torah's 8th Grade Summer Program – The Perfect Environment for Bochurim Entering Mesivta
Nestled in scenic Lakewood, Pennsylvania lies the campgrounds of the Oholei Torah Yeshivas Kayitz.
Boasting an 8th grade, Mesivta, and Beis Medrash program, the grounds is a bustling haven of learning and farbrengens all summer long.
The 8th grade program was created with bochurim preparing to enter their first year of Mesivta in mind and is specifically catered to their needs.
Our commitment to maintaining an atmosphere that embodies the highest level of Chassidishkeit begins well before the first day of Yeshivas Kayitz. The packed schedule is carefully curated to ensure that the bochurim are challenged, guided and active throughout the entire day. Likewise, each camper and staff member who attends our program has been carefully selected.
Once in Yeshivas Kayitz there is a packed schedule awaiting the bochurim as they begin their day with Chassidus, davening, breakfast, and learning class – all before lunch! The state of the art zal and classrooms help create the perfect environment for the boys to make the most of their hours spent learning.
Lunch is generally followed by three different recreational activities including sports, swimming, and incredible trips! After dinner comes evening classes which are usually followed by exciting night activities.
The Yeshivas Kayitz is under the direction of Rabbi Yisroel Levertov with Rabbi Nissim Lagziel serving as the camp Rabbi and mashpia together with Rabbi Moishie Silman – the director of the Oholei Torah Mesivta Program throughout the year. Our staff is top of the line and undergoes specialized training to be able to provide a safe environment for all of our campers.
Additionally, during the course of the summer the camp brings down various Rabbis, Mashpiim, and Shluchim to farbreng with the boys and share their personal experiences and perspectives with them.
We all know the impact that the time spent during summer vacation can have on a child's year and even his entire life.
A summer spent in the chassidishe avir of Oholei Torah Yeshivas Kayitz 8th grade program will give your son the powerful boost that will inspire his learning and hanhaga throughout the entire year.
Registration will be opening on 10 Shvat/February 1st.
For more information and to register for our summer program visit: ykprogram.com or contact our offices by emailing registration@ykprogram.com or by calling 570-300-5190.