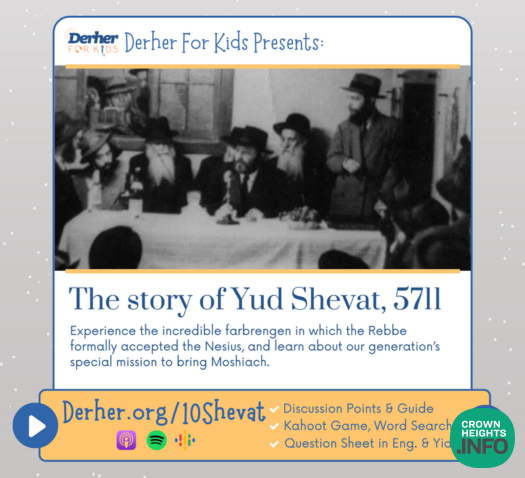 NEW: Kids Yud Shevat Resource Site
With Yud Shevat not far away, you've probably started thinking about how you can make the day relatable and meaningful to your children and students. Will you show them a video of the Rebbe? Make a family farbrengen? Encourage them to connect to the Rebbe?
Such a special day presents us with a golden opportunity as parents and teachers.
But how will you explain the significance of the day, the Rebbe's powerful mission statement, and a child's personal connection to it all in a meaningful, impactful, and simple way?
That's why the Derher for Kids team has been working round the clock to create a dedicated site to support your children's Yud Shevat inspiration.
The new resource site features Derher For Kids' latest release – Yud Shevat 5711, & the mission of Dor Hashvii.
It's a new 45 minute full-production audio episode that will allow children to experience the incredible farbrengen in which the Rebbe formally accepted the Nesius, and learn about our generation's special mission to bring Moshiach.
In addition, the first-of-it's-kind resource site includes:
1. A fun interactive Kahoot game, and word-search based on the episode.
2. Quiz/Questionnaire (or suggested discussion points) in both Yiddish and English, along with an answer sheet.
3. A helpful minute-by-minute guide and breakdown of the episode
4. Full access to other Derher articles and resources.