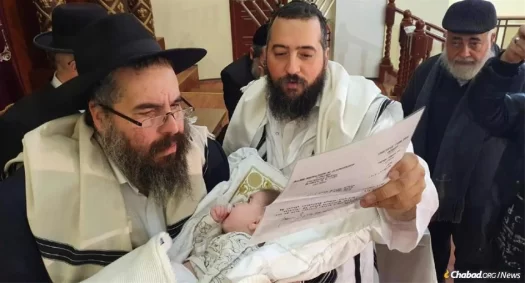 Joy in Kharkov, Ukraine, as Four Males Young and Old Receive Brit Milahs
by Faygie Levy Holt – chabad.org
The Kharkov Jewish community had a lot to celebrate this past week as four members of their community, including a 6-month-old, a 4-year-old, a 9-year-old and a man in his 50s received a brit milah.
Two of the boys who had a brit milah are the sons of Mazel Chaya, who also goes by Maria. She attended Camp Gan Israel in Ukraine as a youngster and says she always believed it was important for her sons to have a brit.
"While I wanted my oldest son, 4-year-old Amir, to have a brit milah when he was a baby, something always came up," she tells Chabad.org, including the Covid pandemic and worldwide lockdowns. However, when her youngest son, Menachem Mendel, was born six months ago, she knew it was time.
The only problem was the ongoing daily attacks on the city.
She spoke to Rabbi Moshe Moskovitz, who along with his wife, Miriam, have led the Jewish community for more than 30 years as the directors of Chabad-Lubavitch of Kharkov. Moskovitz began making arrangements for two rabbis who perform brit milahs—including Rabbi Mendel Cohen, the Chabad emissary to Mariupol, which has been significantly damaged in the conflict and Rabbi Dovid Shlomo Gelber, a mohel in Israel—to come to Kharkov.
As word spread, another mother decided it was important for her son, 9-year-old Timor, to have a brit and receive a Jewish name. Timor, who took on the name Avraham and attends Or Avner, the Jewish day school in Kharkov, says he is proud of himself and of his new name.
'Ready to Do This Tremendous Mitzvah'
The children weren't the only ones who officially entered the Covenant of Abraham.
Kharkov resident Alexander, who is in his 50s, was attending a Chassidic farbrengen at Rabbi Moskovitz's house on Shabbat when he heard that the two rabbis were coming to town.
Despite his age, Alexander announced that he, too, "wanted to have a brit," says Miriam Moskovitz. This led to a rousing cheer, and those gathered at the Moskovitz table started dancing around.
On Monday, little Menachem Mendel, who was named after the Rebbe—Rabbi Menachem Mendel Schneerson, of righteous memory—in honor of all he did to help bring Jewish life back to the city, was circumcised at the Chabad Choral Synagogue following morning prayer services.
Later that day, his brother Amir and young Timor had their own brit milah.
As for Alexander, says Miriam Moskovitz: "He came ready to do this tremendous mitzvah with true mesiras nefesh, true personal sacrifice, symbolizing the eternity of the nation of Israel."