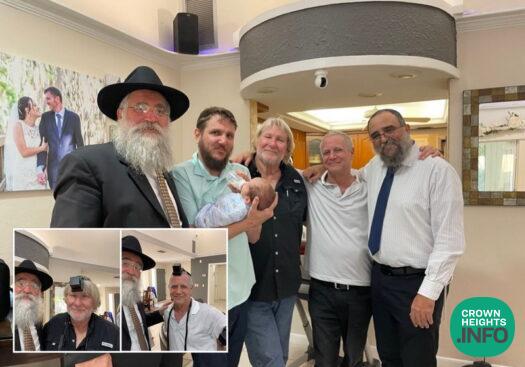 A Bris That Turned Into Two Bar Mitzvahs
by CrownHeights.info
Rabbi Yitzchok Minkowitz of Chabad of Southwest Florida arrived anticipating only a Bris, but the event turned into a triple simcha.
Minkowitz was officiating a bris being performed by Chabad Mohel Rabbi Yossi Srugo, and of course did not miss the opportunity to put on Tefillin with the father.
"We put on Teffilin with the Father of the boy before the Bris," Rabbi Minkowitz told CrownHeights.info. "The grandparents refused, as they never did it and did not feel comfortable putting on Teffilin."
The grandfathers from both sides of the family, aged 61 and 67, were initially adamant, but after the bris was completed, first one, then the other agreed to put on Tefillin.
In honor of the new baby, the bris became a triple simcha.
"Everyone present was so happy as they participated not only in the planned Bris, they also witnessed two Bar Mitzvah's as well," said Rabbi Minkowitz.