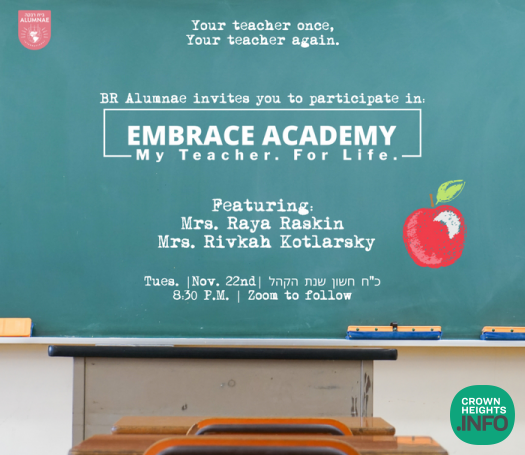 LIVE at 8:30pm: Miss Your Teachers? Bais Rivkah Launches Embrace Academy For Alumnae
You did it.
You graduated. You're finished.
You moved on, ready for the next chapter in your life, an independent adult.
Jobs. Family. Friends.
It's the thick of life and there's a lot going on, BH.
But as the years go by, you may start to realize.
How much of who you are today was formed in those years in school when you sat at those little chairs with desks attached? How much of your belief system, the jobs you hold, the friends you have, and the lifestyle you lead was molded then?
Nowadays, there are a variety of online education options. While you are jogging, driving or folding laundry, you can learn a sicha or listen to the Chassidishe view of life.
But what if you could relive the wonder of sitting wide-eyed in front of your teacher? What if you could hear from Mrs. Kotlarsky, Mrs. Raskin and other favorite teachers? How much more would you gain now? How differently would you understand now?
EmBRace invites you to rediscover your own classroom (without scratching noises on the blackboard!).
Join us Tuesday to launch the EmBRace Academy, where your teachers are for life.