In Hurricane-Battered West Florida, Chabad of Venice Steps Up
by Yoni Brown – Lubavitch.com
It was after midnight when Rabbi Sholom and Chaya Schmerling and their children lit a menorah for light. But it wasn't Chanukah—it was the day after Rosh Hashanah. Hurricane Ian had just crashed into their home in Venice on Florida's west coast and knocked out the power.
The director of Chabad of Venice, Rabbi Schmerling checked in with community members all day Wednesday. As the Category 5 hurricane intensified in the afternoon, the situation grew desperate. "One lady called me crying," he says. "She and her children were trapped at home, with water up to her kitchen counter." He has received dozens of calls from distressed family members seeking information about loved ones.
On Thursday morning, Chabad procured a generator and opened their building, which has suffered minor damage, to provide drinking water and allow people to charge their phones. "Without electricity, people don't have water or food," Rabbi Schmerling says. While driving around the flooded city to check in with community members in harm's way on Thursday afternoon, he said he's concerned for the community. "We're an elderly city," he says. "People are alone in their homes; they can't contact anyone."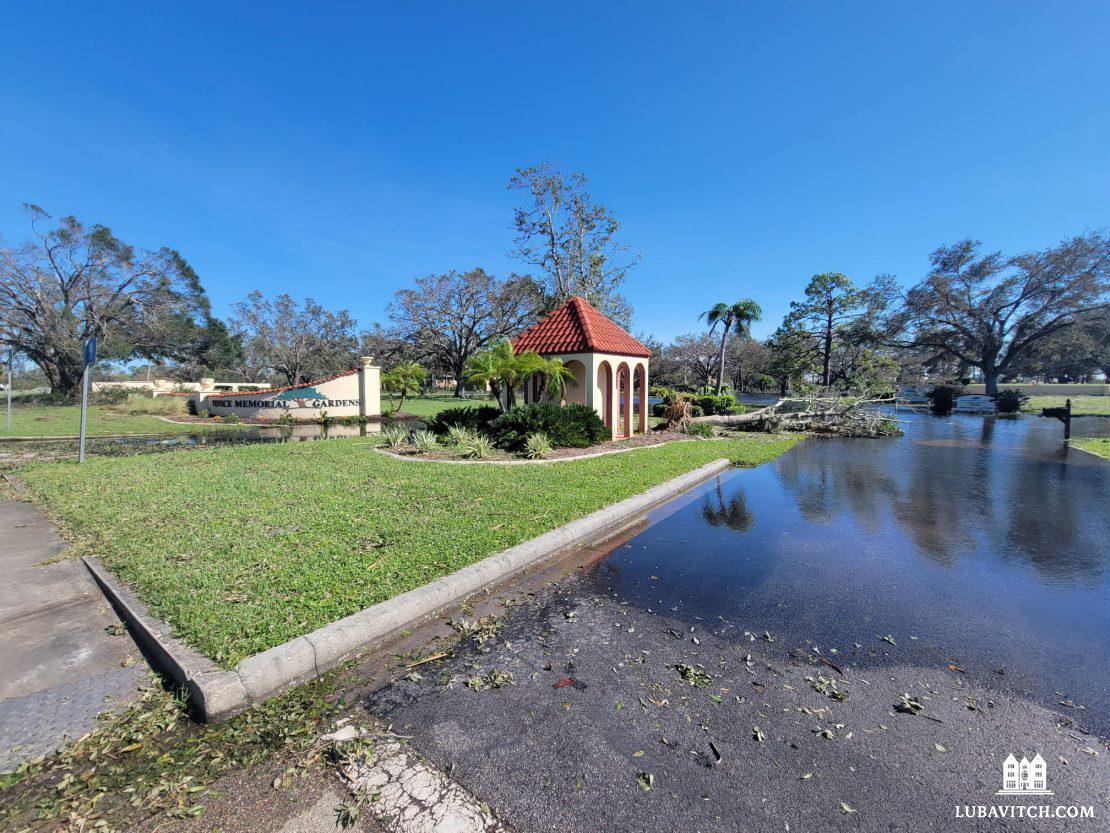 Rabbi Schmerling is also working to arrange a burial for a community member who passed away before the storm. But now, the cemetery is flooded. Simultaneously, he's coordinating with Jewish communities across Florida and the United States to deliver aid to the region.
Across Florida, community organizations are coming together to provide relief. Chabad of North Broward and South Palm Beach County's Rabbi Shuey Biston is partnering with Rabbi Josh Brodie of the Jewish Federation of South Palm Beach County and Summer Faerman of Hands on Tzedakah to deliver 1,100 meals to affected areas in time for Shabbat. Their truck will carry food and other vital goods that will come as a lifeline for the hard-hit communities of Venice, Fort Myers, and Naples on Florida's southwestern coast.
South of Venice, in Fort Myers, Florida, Rabbi Yitzchak Minkowitz's Chabad of Fort Myers is one of the few buildings left dry after Ian's twelve-foot storm surge flooded thousands of homes in the city. More than fifty locals, forced from their homes, took shelter at Chabad overnight.
Now Rabbi Minkowitz is distributing water and helping coordinate an outpouring of support from the greater Jewish community. "It's a movement now," Rabbi Minkowitz says. "Everyone wants to help; Hatzalah rescue teams drove in from across Florida and as far as Maryland." Jewish communities are sending help, from food and water to generators. 
Rabbi Minkowitz hosted a community barbeque on Thursday afternoon. "More and more people call me to say they don't have food," he says. "It's good for the community to get together, and people need food."
Further down the coast, Rabbi Fishel and Ettie Zaklos sent an early morning message to their community on Thursday, inviting them to a barbeque dinner at Chabad of Naples. They also asked people to reach out if they need food, water, or evacuation. Rabbi Zaklos is working with Yakov Kopfstein and other volunteers from New York-based Hatzalah Air, which flew helicopters to Southwest Florida for the rescue effort.
In Naples, you can already hear the sound of chainsaws everywhere. On Sunday, Chabad of Naples' team of volunteers will head out to help clear debris and remove fallen trees.
"We're trying to stay positive," says Rabbi Minkowitz in Fort Myers. "We're going to do everything we can to help our community rebuild."
To Support Chabad of Venice & North Port
To Support Chabad of Fort Myers
To Support Chabad of Naples