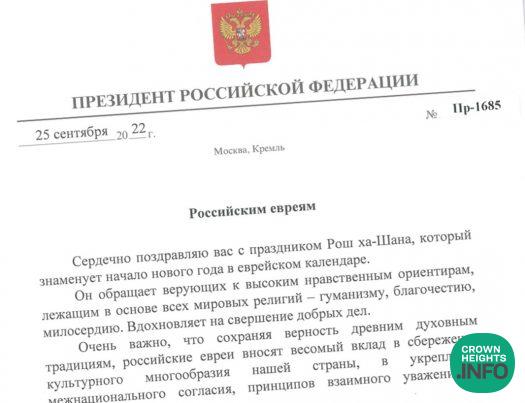 On the Eve of Rosh Hashanah, Russian President Sent Rosh Hashana Wishes to the Jews
At the office of the Chief Rabbi of Russia, Rabbi Berel Lazar Shalita, a greeting card arrived from the President of Russia, Vladimir Putin, wishing the Jews of the country blessings for Rosh Hashanah and the New Year.
In his letter he writes:
"To the Jews of Russia. I congratulate you from the bottom of my heart on the occasion of Rosh Hashanah, a holiday that marks the beginning of the new year according to the Hebrew calendar. This holiday directs the religious public to the sublime Moorish hallmarks, which lie at the foundation of all religions – to the values ​​of humanity, charity and mercy – and encourages them to do good deeds. It is extremely important that the Jews of Russia, who maintain their loyalty to the spiritual tradition of their forefathers, make a significant contribution to maintaining the cultural diversity of our country, to strengthening the agreement between the peoples on the foundations of mutual help and religious tolerance.
I wish you good health, spiritual ascension and a real holiday feeling. Vladimir Putin".
Congratulatory letters were sent by the Chairman of the Federation Council of the Federal Assembly of the Russian Federation Mrs. Valentina Ivanovna Matvinko, the Chairman of the State Duma of the Federal Assembly of the Russian Federation, Vyacheslav Viktorovich Volodin, various district governors, mayors, and heads of government many.