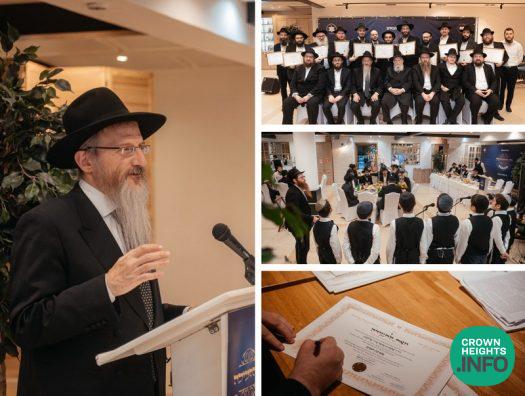 Russia and Ukraine Students Unite for Smicha Celebration
Forty rabbinical students of the 'Lemaan Yilmedu' institution from Russia, Ukraine, and additional countries, who finished learning their studies, gathered in person and via Zoom for a festive event to receive their ordination certificates from Chief Rabbis Berel Lazar of Russia and Eliyahu Yochanan Gurary of Holon. They will serve the Jewish communities in the FSU and lead the revival of Judaism.
The graduation event took place in the capital of Russia in the events hall of the Jewish Center "Marina Roscha," and was participated by the chief rabbi of Russia, Rabbi Berel Lazar, and the guest of honor, the chief rabbi of Holon, Israel, Rabbi Eliyahu Yochanan Gurary. The students received their 'Semicha' ordination certificate which attests to the in-depth program they successfully completed, despite the language barrier.
During this past year, the students learned all the relevant halachic studies from the 'Shulchan Aruch' in depth and in a professional course that Machon Lemaan Yilmedu provided.
Every week, the forty Russian-speaking students joined together via Zoom, coming from seven different countries including Germany, Ukraine, and Russia as well as other countries and Israel.
The event was attended by Rabbi Yisrael Mhel, head of Machon Lemaan Yilmedu, who came from Israel, Rabbi Avrohom Zaks, head of Machon Lemaan Yilmedu for Russian speakers, excited relatives of those receiving certificates, and supporters of the community.
In his speech, Rabbi Lazar praised the wives of the young rabbis who encouraged and supported their husbands to sit and learn and master the studied content. "In the merit of the righteous women" takes on greater significance today, he said.