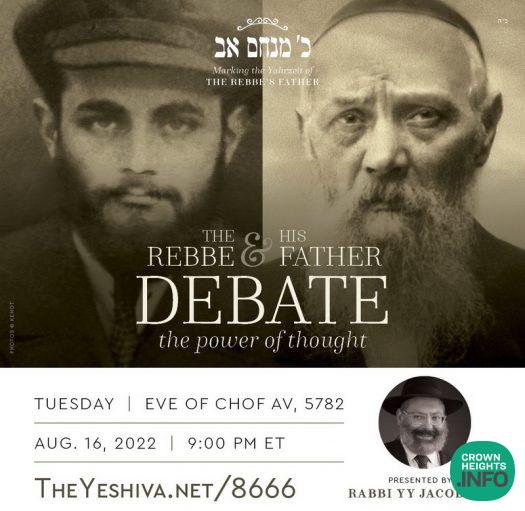 TONIGHT LIVE AT 9:00PM: The Rebbe and His Father Debate
In a letter of the Rebbe, Motzoei Tisha B'Av 5744 (1984), the Rebbe writes: "Chof Menachem Av is the yahrzeit and hilula of my father, Harav Levi Yitzchak ben Harav Boruch Schneur ז"ל…. It is my obligation and great zechus to suggest, request, etc., that everyone study from his teachings at the farbrengen [of Chof Av], and to donate to charity in his memory on this day.".
Pursuant to the Rebbe's words, join us tonight for 'An Evening of Learning' with Rabbi YY Jacobson as he presents the debate between the Rebbe and his father on the power of thought.
An opportunity such as this, to personally assist the Rebbe in honoring his father, comes only once a year. Don't let it pass.
Embed video: