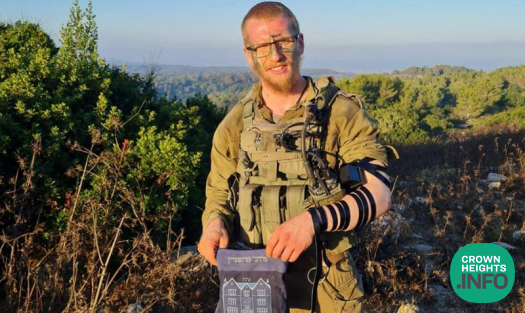 Moti Kaminstein, The Son of A Chabad Shliach Who Now Commands A Chareidi Paratrooper Company
by CrownHeights.info
Twenty-four-year-old Mordechai "Moti" Kaminstein is hardly your typical soldier. The Ukrainian-born Paratrooper and son of Shluchim moved to Israel at 14 to attend Yeshiva and fell in love with the country.
After enlisting in the IDF at 19, Moti found that his service only heightened his Jewish observance.
"I came to Israel to study in a Chabad yeshiva. In Ukraine, there were no such yeshivot," Kaminstein was quoted as saying by YNet. "I studied in the yeshiva until I was 19, and then I decided to enlist in the IDF. When I first came to Israel, it wasn't even planned, but as I grew older, I realized it was an important thing to do, and it didn't collide with the values I grew up with, on the contrary."
In 2016, the Hetz Heredi was established, allowing Orthodox Jews to serve in a religious environment. Seeing an opportunity to serve in the military without compromising his values, Kaminstein joined the group and began making his way up the ranks.
Now, years later, he finds himself returning to the Orthodox Unit as an officer, having been given the position of command in the company.
"It's crazy," Kaminstein said, "I can't describe it. I wasn't planning on getting that role. It feels like I reached the top. My greatest ambition is to push the company to the highest achievements I can."
Following the war in Ukraine, Moti's family fled the country and traveled to Israel, where Moti said they are still settling in.
Edit: The article has been corrected to note that Kaminstein has been given command of a company within the brigade, and not given command of the entire brigade.