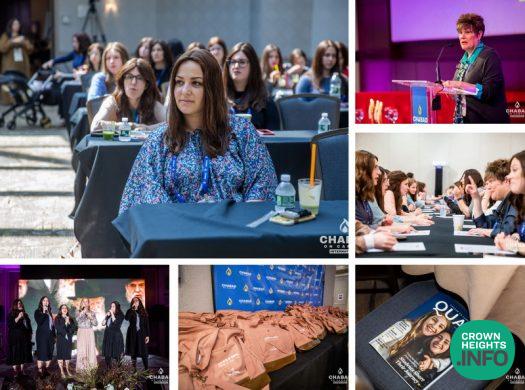 Long Awaited Campus Shluchos Kinus Reconvenes to Enthusiastic Response
They are some of the hardest-working people on the planet. They are constantly giving to others and almost never stop to think about themselves. And for three days this past week, these incredible women were treated to an event they deserved. From Tuesday through Thursday, almost a hundred Chabad on Campus Shluchos gathered together for their annual Kinus, located at the luxurious Hilton in Woodcliff Lake, N.J, to connect with one another, receive inspiration, learn, and share best practices.
After a hiatus due to the pandemic, the feeling of togetherness and inspiration was palpable. With many Shluchus on remote campuses around the world, this opportunity to revel with fellow comrades in arms was like a refreshing drink in a hot desert.
"Shluchos work incredibly hard throughout the year, juggling their responsibilities to their families and to their Chabad House," said Rabbi Avi Weinstein, COO of Chabad on Campus International. "We consider it an incredible zechus to host them for these few days. They are royalty and deserve to be treated as such."
Indeed, amenities, small luxuries, and a well-thought-through program enabled the Shluchus to simply enjoy and relax. Spa night, massages, and yoga sessions kept the body nourished, while shiurim from Mrs. Rivky Kaplan of Tzfas, inspiration from Mrs. Rivka Slonim and Mrs. Vivi Deren, and many others, fed the soul.
Most importantly, with a hundred powerhouses in one building with none of the usual responsibilities, productive strategizing and inspiration were available in bucket loads.
Much thought was put into curating a program that was personal and impactful. A highlight of the program was the beginning session of "speed meeting," in which each Shlucha got the chance to meet every fellow Shlucha for a few minutes at a time, setting the tone for a sisterly atmosphere. Another highlight was at dinner the first evening, when Mr. George Rohr, who generously supports Chabad on Campus, was in attendance and got up close and personal as he was interviewed by Mrs. Dobie Thaler from Chabad at the University of Wisconsin at Milwaukee. Mr. Rohr expressed his genuine envy of the Shluchos and their critical roles in their respective places of work.
Other sessions brought together smaller micro-groups of Shluchos by various categories, such as age groups, length of time on Shlichus, and specific location and style of their university.
"The Kinus was just so enjoyable and relaxing," said Mrs. Mirel Levitansky from Chabad at S. Monica College. "In addition to all the luxury, it was also so inspiring and has given me chizuk to start the next semester off on the right foot! You can tell how much work, time, effort, and thought went into it. Thank you to the whole team"
Other sessions addressed such topics as balancing Shlichus with family and the proper balance between management and delegation. Rabbi Shais Taub also visited for a Q&A about parenting. Another popular workshop was on the topic of working with your spouse, moderated by Mrs. Raizy Rubin, veteran Shlucha from Chabad at the University of Albany.
The Kinus climaxed with a beautiful banquet, with closing delivered by Mrs. Chaya Weingarten of Chabad at Texas State University. Heartfelt, soul-stirring niggunim were sung by a professional choir led by Mrs. Esther Freeman.
"When we started planning this Kinus almost a year ago, we were extremely focused on ensuring extra attentiveness to detail," said Rabbi Yossy Gordon, CEO of Chabad on Campus International. "Baruch Hashem, it's extremely gratifying to see the results today. The amount of positive energy, smile, laughter, and the outpouring of inspiration from the Shluchos is the reason for these kinusim, and it is our honor to host them."