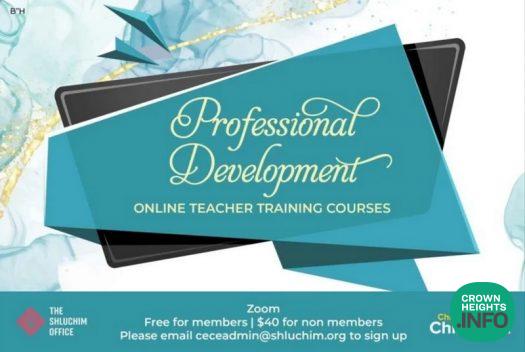 Chabad Early Childhood Announces Teacher Training Courses
Chabad Early Childhood of the Shluchim Office announces two online teacher training courses with dynamic speakers and presenters, taking place in August.
Chabad Early Childhood is the international network supporting Chabad preschools on Shlichus with curriculum resources, teacher training, and more. The new online teacher training courses open to all teachers, promises to give comprehensive and thorough classes on important topics relating to Chinuch.
"After many requests, we are excited to invite early childhood educators to partake in our professional development training course." said director, Mrs. Rivky Baitelman. "The workshops will cover crucial subjects such as interpersonal relationships in the classroom, creating successful learning environments, and new teaching techniques."
The first class on Monday, August 15 / 18 Av features Mrs. Yehudis Smith, founder of Imagined Educational Consulting and Dr. Tamar Andrews, early childhood professor and consultant. The second class on Thursday, August 25 / 28 Av will be taught by Mrs. Sara Loewenthal, principal of Tamim Academy in York Region and Mrs. Nechamy Segal, certified Special Education Teacher.
"I am really looking forward to the teacher training courses," shared presenter Mrs. Sara Loewenthal. "It's a unique opportunity to explore ways we, as educators, can ensure we are meeting the needs of all our students through using evidenced based research to inform our practices."
Teachers can register now at shluchim.org/teachertraining and reach out with any questions to ceceadmin@shluchim.org.
Chabad Early Childhood will also hold a Masterclass for Shluchim and Mechanchim, featuring three impactful sessions with dynamic and highly-sought speakers. For more information and to register, visit shluchim.org/preschoolmasterclass.
Chabad Early Childhood is a project of the Shluchim Office.