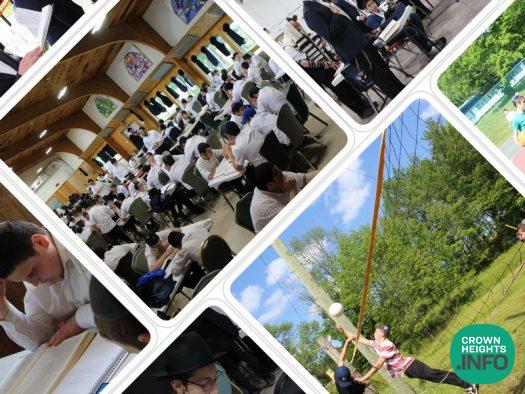 Oholei Torah Yeshivas Kayitz Program – Back in Full Swing
With the beginning of this year's Oholei Torah Yeshivas Kayitz Program in Lakewood, PA, you could feel the excitement in the air. B"H all the staff and bochurim arrived safe and sound, looking forward to a beautiful summer b'gashmius uv'ruchniyus.
The Yeshivas Kayitz Program is in its ninth year, taking place on its newly purchased 250-acre grounds. After extensive renovations, we have ka"h 450 people in three divisions – eighth grade, Mesivta, and Beis Medrash – each with its own large and airy Beis Medrash.  With all its wonderful amenities YKP is a summer experience of living, learning and growing in Yiddishkeit and Chassidishkeit in a healthy physical environment.
In preparation for the summer, Yeshivas Kayitz had very informative and enlightening training sessions for their staff, emphasizing safety, security, being the best possible staff member, and helping the bochurim thrive in their Ruchnius and Gashmius throughout these crucial summer months. The staff met with the Menahalim, Rabbi Moshe Silman, and Rabbi Nissim Lagziel, in addition to the director, Rabbi Yisroel Levertov, and the assistant director, Meir Heber. 
Staff also participated in training workshops with Rabbi Yehoshua Lustig principal of grades 5-7 in Oholei Torah, discussing discipline with love, teaching by example, and helping each bochur grow and succeed. Followed by a session from Dr. Gavriel Fagin, who is a lead psychologist and social worker specializing in the field of abuse. 
The summer started off with a strong learning seder in each division, a beautiful uplifting Shabbos in honor of Gimmel Tammuz, in which the bochurim had the opportunity to visit the Ohel on Sunday.