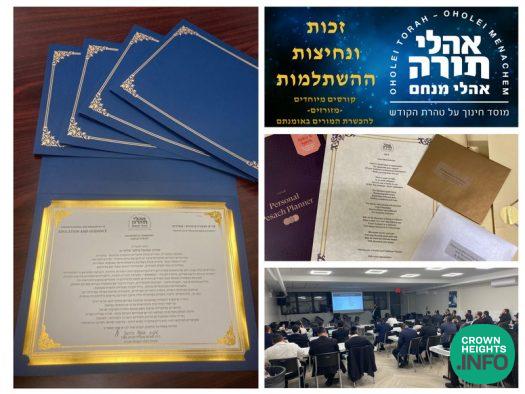 45 Oholei Torah Mechanchim Participate in an Immersive Chinuch Course
Forty five current Oholei Torah teachers have spent the past 16 weeks immersed in an intensive training course; developing their skills, deepening their understanding and thoughtful interaction with their students, and exploring and implementing innovative techniques to enhance their classroom atmosphere. They discussed and affirmed the joint mission of raising the bar of Chinuch both academically and emotionally and by instilling in their talmidim with Chassidishe Yiras Shomayim, a love for Torah and Mitzvot and strong values of Ahavas Yisroel. A special emphasis was placed on building the confidence and self esteem of their students and infusing them with 'Gaon Yaakov', Yiddishe pride!
The course was organized by the Oholei Torah Chinuch office, under the leadership of the Menahel Rabbi Mendel Blau. The idea was inspired by the Rebbe's many letters highlighting the value of ongoing professional development for new and seasoned teachers alike.
Oholei Torah teachers are well known in the community, and beyond, for their boundless dedication to their Talmidim, and are also held in high regard for their talents and skills that they bring to the classroom; enriching the lives of hundreds of Talmidim each and every year.
While there are many professional development courses that exist for new teachers throughout the summer months, there are very few programs that are designed specifically for the seasoned teacher, enabling and empowering him to take his knowledge and experience to the next level. The specific advantage of the course taking place during the school year is that it offers teachers the opportunity to implement their training in their classrooms as they are learning it, and testing and applying their new knowledge and getting direct feedback, all in real time.
Throughout the duration of the course, participants enjoyed more than 50 hours of interactive lectures given by Rabbanim, renowned experts in the field of chinuch, and professionals in the field of student development.
The in-person conferences and workshops were further complemented by the Mechanchim pursuing independent study accessing a wide range of specially procured online classes. Additionally the teachers were all provided with an expansive compilation of the Rebbe's Letters and directives in the field of Chinuch. As well as the practical study of Kelolei Chinuch Vehadrocho a brilliant composition on Chinuch approach objective and methodology written by the Frierdiker Rebbe.
All of the virtual classes and assessments were streamed via a portal that was built especially for this purpose to streamline the experience of course participants and to ensure that the hours of valuable information remains organized and easily search-able.
The course commenced with a Festive farbrengen, celebrating our Mechanchim devotion to the Shlichus in chinuch and their commitment to actively take-part in evening classes while balancing their many responsibilities.
A special thank you and acknowledgement was given to the special wives of the Mechanchim who proudly supported their husbands throughout the full semester of classes.
A special thank you was given to the Board of directors and R' Yossi Langsam for undertaking the financial responsibility to allow for this project to come to fruition, and Rabbi Sholom Rosenfeld who helped advise on the program structure, Reb Tzvi altein and Reb Dov klyne who each contributed in many ways.
Reb Yisroel Cohen expertly coordinated the many aspects of this important venture, seeing to it that the program would be done with comfort and class befitting the Mechanchim, and honorable mention was also given to the Advisory committee that included Rabbi Yehoshua Lustig, Rabbi Yanky Raskin, Reb Nachman Dov Wichnin & Reb Dovid Dinerman.
The meaningful feedback received from the many Mechanchim and course participants, has us already planning how we can further build and expand our offerings, broadening our horizons, as we continue to lead the way as the flagship educational institute of Chabad internationally.
The course presenters and topics included:
Rabbi Yosef Avraham Heller – How to measure success in Chinuch and the importance of Yiddish and Yiddishkeit.
Rabbi Yosef Yeshaya Braun Shlita –How to instill Yiras Shamayim and the emphasis that we should be placing on teaching halacha.
Rabbi Ephraim Mintz – The brachos of Chinuch. living with mindfulness, the gift of now!
Rabbi Nochum Kaplan – The sacred importance of Building the self confidence of our students.
Rabbi Michoel Gourarie – The role of a Mechanech – instilling values of Yiras Shamayim and Hashkafa. Maintaining healthy student/teacher relationships. Effective classroom management.
Gemara instruction for the student who has trouble focusing.
Rabbi Herschel Lustig – The Rebbe's connection to Oholei Torah – horaos that Rabbi Lustig received over the years from the Rebbe and Rabbi Chadokov.
Rabbi Nachmon Twerski – The yesodos of chinuch as they are learned from the Rebbe's Torah. How to give our students a geshmak in Tefilla.
Rabbi Yossi Paltiel – Guidelines for discussing and processing traumatic incidents with our students.
Rabbi Mendel Greenbaum – Planning for difficult meetings & communicating effectively.
Rabbi Yaakov Sputz – How do I foster a meaningful relationship with my students?
A 5 part interactive training series exploring the idea of empowering student autonomy & motivation.
Rabbi Yakov Sadigh – Improving student behavior and academic achievements by investing in your relationship with them.
Rabbi Binyomin Ginsberg – How to prepare the perfect lesson.
Rabbi Shlomo Sternberg – Effective communication in relationships and education through the understanding of different personality types. Leading a series of classes and conversations in Kelolei Chinuch and Hadrocho.
Rabbi Avremel Schtroks
A 2 part series about the mechanisms of Kriah and the history of the Mesorah vs. the Maskilim.
Practical tips how to transition your students to think and converse in Yiddish.
Rabbi Tzaly Laufer – Mesorah of Kriah – what sets Lashon Hakodesh apart from phonetic languages (English etc.)
Rabbi Dr. Shmuel Mandelman – Profiles in the classroom – what is contributing to my student's inability to function.
Dr. Akiva Perlman – Understanding the impact that the teacher's mental health and personal life has on his classroom.
Dr. Shloimie Zimmerman – From boys to men – guiding our sons and students in the ways of Kedusha.
Rabbi Yosef Graus – Chutzpa? Or lack of social skills? How to locate and address red flags in Chinuch. Language and comprehension – how to help a student who is struggling in school due to difficulties with additional languages. Red flags, knowing when to seek additional help and guidance. Advocating for our students.
Rabbi Dovid Dinerman – Dealing with disruptions in the classroom. Student assessment: is my teaching effective?
Rabbi Yaakov Chaiton – Discipline with sensitivity and intuition.