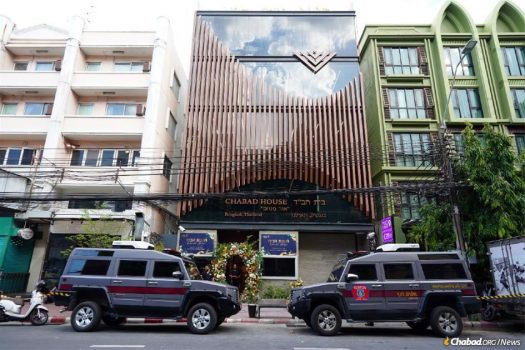 The five-story, $7 million dollar Chabad center serves the 100,000 Jewish visitors to Bangkok, Thailand, each year. (Photo: Chatchawan Luangruangtip)
In Bangkok, a New $7 Million Home Away From Home for Jewish Travelers
by Mendel Super – chabad.org
Amid the hustle of Bangkok's tourist district, with the exotic smells of street-cooking and the cacophony of languages—past the storefront signs in Hebrew to attract Israeli tourists and the salesmen hawking their suits and ties in English and Hebrew—the five-story Chabad-Lubavitch of Bangkok center looms tall. A five-year project that was the site of an old hotel in 2017, it's now the newest Chabad center in Southeast Asia.
The $7 million, 30,000-square-foot community center opened on June 21, 30 years after Rabbi Yosef Chaim and Nechama Dina Kantor arrived in Thailand in 1993. Through the decades, the rabbi oversaw Chabad's stunning growth in the country, in Bangkok, Chiang Mai, Koh Samui, Nonthaburi, Pai and Phuket; and also in the broader region: Mumbai, India; Kathmandu, Nepal; Phnom Penh, Cambodia; Luang Prabang, Laos; and Yangon, Myanmar. The team of 16 emissary couples serving the region have powered through tsunamis, regional instability and harsh Covid lockdowns.
The Kantors initially came to Bangkok after being invited to serve as chief rabbi and rebbetzin of the small local Jewish community, which included many expats there for business opportunities. But they soon discovered that there were thousands of young Israeli backpackers pouring through the country, eager to spread their wings and relax after the rigors of three years of compulsory service in the IDF. They've continued serving both of these distinct demographics ever since.
Rabbi Kantor sees the Far East as a place where young men and women rediscover both themselves and their heritage. "Here the vision of the Rebbe [Rabbi Menachem M. Schneerson, of righteous memory] of reaching out to every Jew, wherever they may be, comes to fruition. This building is all about reaching those who travel far away, only to realize that the treasure is to be found in their own souls and their own traditions," he tells Chabad.org.
During his first two years in Bangkok, Kantor was busy hosting Israel backpackers while serving as rabbi of the local Beth Elisheva synagogue. In 1995 he brought down another set of Chabad emissaries, Rabbi Nechemya and Nechama Dina Wilhelm, to focus exclusively on the many thousands of backpackers that descend on Thailand after their army service. In 2000, the Chabad house for Israeli tourists moved into a rented site, where a lounge, restaurant, kosher store, free access to computers and international phone lines, and a synagogue awaited them.
After Years ofSearching, a Dream Fulfilled
Eventually, Kantor and Wilhelm knew, they would need a permanent center of their own. In 2017, after years of searching Bangkok's exorbitantly priced real estate market, they found a lot a few blocks away. Today, five years and $7 million dollars later, the center boasts everything a visitor might need.
The first floor is the lobby and a dairy restaurant, the second floor houses a meat restaurant, travelers' lounge, children's playground and administrative offices. Level three is home to a magnificent synagogue sanctuary, and the fourth floor is its women's gallery and the rabbi's apartment. Perhaps the heart of it all is the fifth floor, where the magic happens. The ballroom, with a 600-person capacity, is where the legendary Shabbat and holiday meals will take place, where the room will fill with song, inspiration, camaraderie and the aroma of hot chicken soup.
Above it all, overlooking Bangkok's skyline, is the rooftop. It's a place for backpackers to hang out with friends, join a barbecue and just relax. "Even if you have nothing to do, you can do it at Chabad!" Kantor says, noting that Chabad is there to provide much more than a synagogue and kosher food. "We're a home away from home."
"With these new tools—finally, our own building—we can accomplish so much more," Rabbi Wilhelm adds. "With G‑d's help, nobody will be left out."