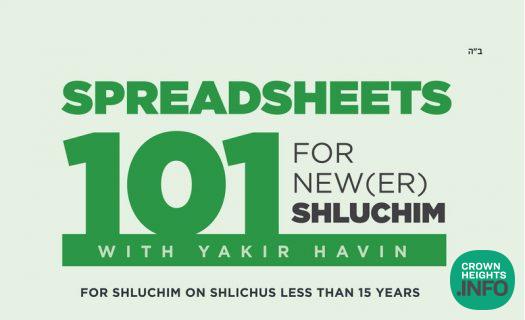 New Shluchim Desk Offers Spreadsheets Course
The New Shluchim Desk at Merkos 302, known for offering resources to help New Shluchim, is proud to announce the launch of a new course: Spreadsheets 101, taught by Yakir Havin.
The spreadsheets course, which will take place in mid-July, is designed for Shluchim who wish to learn how to use spreadsheets (Google Sheets / Excel) for data organization, performing routine tasks, making reports, running calculations, and other similar uses.
The New Shluchim Desk is partnering with Yakir Havin, who has run several successful spreadsheet courses in the past and has taught hundreds of people the many features and benefits that spreadsheets have to offer. This course will be specifically tailored to the needs of Shluchim, and is open to all Shluchim at any stage of their Shlichus.
Similar to the New Shluchim Desk's other offerings, Spreadsheets 101 will be taught online via four live Zoom sessions, and each session comes with a presentation slideshow, a spreadsheet of live examples, and a self-marking spreadsheet of exercises that can be used to consolidate the knowledge taught in the classes.
"Shluchim are incredibly busy people, constantly serving the spiritual and physical needs of their communities," says Havin. "It is an inevitable fact that nowadays spreadsheets are used for many common tasks, and without them, everything can feel messy and disorganized. This course aims to remedy that and empower Shluchim to set up efficient processes so that they can save time for their ultimate purpose: the shlichus itself."
No prior spreadsheets knowledge is required to join this course, and the aim is that Shluchim who complete the four classes will feel confident enough in their ability to create their own useful spreadsheets and utilize many of the functions and features available, as well as be able to look up solutions to new problems online.
The subsidized rate for the Spreadsheets 101 course is $199, and an early-bird discount is available until 11 June / 12 Sivan, bringing the cost down to $179.
The classes run for 90 minutes each and will be given on July 11, 13, 18, and 20 at 1:00 PM EST.
To sign up, or for more information, visit: https://www.newShluchim.merkos302.com/spreadsheets