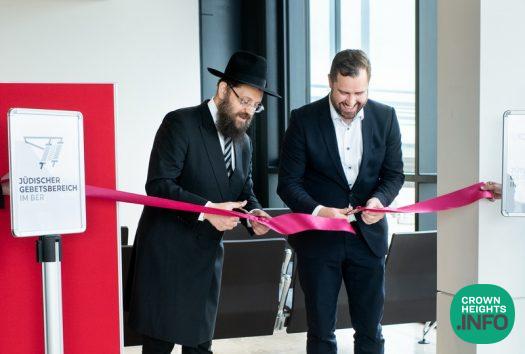 Am 09.06.2022 wird am Flughafen BER der jüdische Gebetsbereich eingeweiht; Rabbiner Yehuda Teichtal, Gemeinderabbiner der Jüdischen Gemeinde zu Berlin und Vorsitzender des Jüdischen Bildungszentrums Chabad in Berlin, und Thomas Hoff Andersson, COO Flughafen Berlin Brandenburg GmbH, halten Begrüßungsreden, im Anschluss findet eine religiöse Zeremonie durch die Herren Rabbiner Yehuda und David Teichtal statt
Airport Berlin Brandenburg Gets First Jewish Prayer Area
Just in time for the start of the travel season in Germany, Berlin Airport is opening a Jewish prayer area. The inauguration took place under the leadership of Rabbi Yehuda Teichtal, Chairman of Chabad Berlin and Thomas Hoff Andersson, COO of Berlin Brandenburg Airport.
Rabbi Teichtal, who had initiated the first Jewish prayer area for Berlin Brandenburg Airport, spoke of a "historic event" and an important sign for Berlin as a metropolis and cosmopolitan city with a growing Jewish infrastructure.
"Travel prayers and the study of the Torah are integral parts of travel in Judaism " he said.
The Jewish prayer area is located in Terminal 1, from where flights to Israel depart. The facilities include seating as well as kippot and siddurim. A mezuzah was placed at the inauguration by Rabbi Teichtal.
To allow Jewish travelers to retreat, the prayer area is separated from the waiting area by mobile partitions and is accessible around the clock.