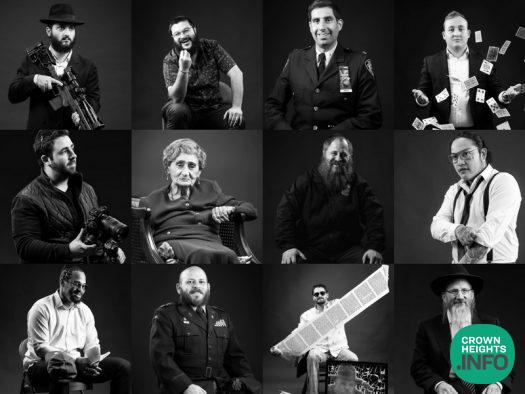 The Jew Project, Documenting Jewish Lives
by CrownHeights.info
Yisroel Teitelbaum is literally a Jewish Giant. Standing head and shoulders above those around Yisroel towers over others, but not only for his size or Instagram handle.
Yisroel is also the creator of the Jew Project, a project aiming to unify the Jewish people through documenting the lives of individuals. For Yisroel, that is through his passion for portrait photography.
"My grandfather [Moshe Neuman] was the sole survivor of his seven siblings," Yisroel writes in his introduction to the project. "His entire family except for him and his father were slain by those who called us "The Jewish Problem"."
The Jew Project is Yisroel's answer to the terrible story of the Holocaust, by doing the exact opposite of what those have tried to do in the past. Uniting and showcasing the Jewish Nation in a show of unity through diversity.
Portraits of Diversity
From Grammy Award-winning musicians to local activists, Yisroel painted the lives of remarkable individuals that span the entirety of the Jewish nation. Each post, uploaded to Instagram, highlights a unique Jewish life, complete with their history, accomplishments, and black and white portraits.
But it's not just the photo or biography that makes each one unique, it's the fact that Yisroel has sat down with every one of them one on one. From Famous raver Zeke Nesher to The Tactical Rabbi Raziel Cohen, Yisroel delved into their personalities and lives allowing him to capture what they are really like in words and photos.
In a recent release, Yisroel featured NYPD Inspector Richie Taylor, with whom he noted that one of the portraits was "not staged at all," as the Inspector was receiving urgent phone calls nearly every 5-10 seconds during the interview.
While the colors of the photos may be black and white, the people featured in the project are far from it.
Zecharia Y. Oluwabankole Levine, a cancer survivor raised in northern Minnesota, holds a post immediately before the fames Orthodox Jewish singer Mordechai Shapiro, and follows Menachem Mendel Stern, an Israel-born American who serves as a Chaplain in the US Armed Forces.
Teitelbaum has recently announced his plan to release another portrait, just days after his last one.
Know someone you think should be featured? Follow the JewProject and send Yisroel a message.