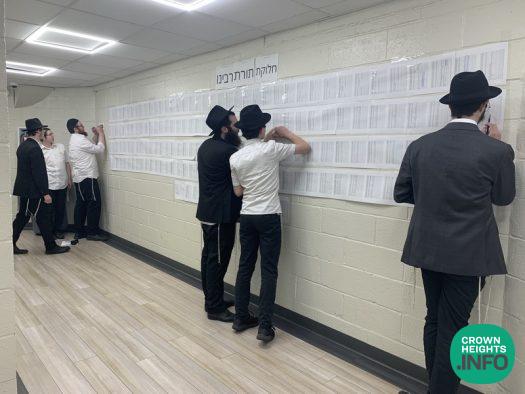 600 Volumes of the Rebbe's Torah Studied as A Birthday Gift
"The gift that I want is limud haTorah," is what the Rebbe said fifty years ago, in the days leading up to Yud Alef Nissan 5732, the Rebbe's seventieth birthday.
Now, as we approach the special jubilee of 120 years, chassidim worldwide — men, women, and even children — are committing to learn the Rebbe's Torah as a gift in honor of the Rebbe's birthday.
Standing a week before the auspicious day of Yud Alef Nissan, marking 120 years, there have already been 600 (!) volumes of the Rebbe's Torah — Maamorim, Sichos, Igros, Reshimos, and Farbrengens — taken among the learning commitments.
Due to the overwhelming response and interest, the organizers have added four more rounds of the Chalukoh, each one encompassing the 250 volumes of the Rebbe's printed Torah.
"The reward for a mitzva is the mitzva itself." As was announced recently, a raffle on 120 sets of the Rebbe's Torah will take place for all the participants in the Chalukoh who commit to learning at least five units. Each additional five units earn another chance in the raffle. Those who commit to study an entire volume will enter a special raffle on the set of Toras Menachem – Hisvaaduyos, volumes 1-75.
The director of Lubavitch Youth Organization, Rabbi Shmuel Butman, explains that the commitment to the learning is in honor of Yud Alef Nissan, while the actual learning starts now and continues throughout the coming year.
Sign up now at: YudAlefNissan120.com
Among the many venues of publicity that the organizers have been using, they visited yeshivos with the goal of including the bochurim in this global gift to the Rebbe. In Oholei Torah Mesivta, for example, the Yeshiva's shluchim printed the entire Chalukoh on long posters and attached them to the wall. This way, the temimim were able to review the many hundreds of learning units and choose the portions they wanted to commit to learning.
The organizers and all the participants in the Chalukoh fervently hope and look forward to presenting the gift to the Rebbe as we celebrate Yud Alef Nissan together with the Rebbe with the complete Geuloh.