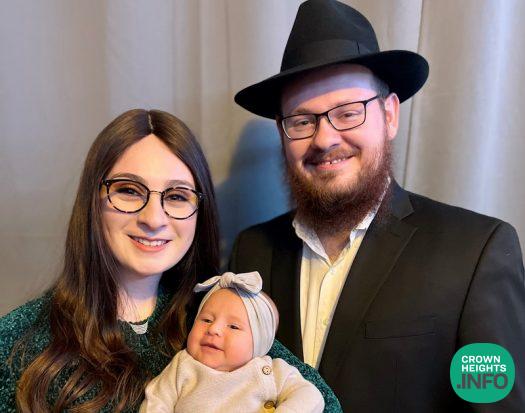 New Shluchim To "Billings" To Be The Fourth Shluchim Serving The Jews Of Montana
Jewish life in rural America is experiencing a revival and Chabad Lubavitch of Montana is at the forefront of its growth, announcing the opening of a fourth center in Billings, to serve the state's largest population and Jews across eastern Montana.
Rabbi Shaul Shkedi and his wife Mushky, along with their six-week-old daughter Zelda Rochel will be opening the Billings branch sometime this summer. They spent a few days in Montana in early January, getting a feel for Billings and its people and they left enthused and overwhelmed by the reception they received and the excitement from so many locals who are eager for Chabad to come to town.
Though Chabad Lubavitch Headquarters in Brooklyn, New York had been sending rabbinical students to Big Sky Country since 1956, they didn't open a permanent center until 2007, when Rabbi Chaim and Chavie Bruk, moved to Montana and founded the organization's first Center for Jewish Life and Learning in Bozeman. "When we first moved out west, people wondered whether there was interest for a traditional Jewish experience" recalls Mrs. Chavie Bruk, who serves as co-CEO with her husband Rabbi Chaim, "but we were confident, we knew that souls were thirsting for something real, something authentic, and fifteen years later, it's clear that we got it right".
Chabad Lubavitch centers around the world are the brainchild of Rabbi Menachem Mendel Schneerson, the "Rebbe", who passed away in 1994. "The Rebbe believed that every Jewish person from Glendive, Montana to Helsinki, Finland should have the ability to tap into their heritage and experience vibrant and meaningful Judaism. The Rebbe envisioned a time when his students, young men and women, would leave their Brooklyn cocoon and move to small Jewish communities like Montana and share the warmth and depth of Judaism" said Rabbi Yehuda Krinsky, Chairman of Chabad Lubavitch Headquarters who oversees the thousands of branches in over 100 countries and all fifty states. "We aren't surprised about Chabad's growth in rural America, and with so many families leaving the big cities and heading to the mountains for a more tranquil life, Chabad will be there for them," remarked Krinsky.
After seven years of crisscrossing the state to teach classes, arrange circumcisions, helping with Jewish burials and ensuring that the needs of Montana's Jews are met, in 2014 the Bruks opened a second Chabad Lubavitch Center in Missoula, which serves today as a lively place of Jewish worship led by Rabbi Chezky and Rochi Vogel, who also service the many Jewish students at University of Montana. In 2018 the Bruks appointed Rabbi Shneur and Chana Wolf to open a third center in the Flathead Valley where Judaism is now prospering for the locals and many visitors to Glacier National Park. As time passed and Billings kept growing it only made sense that they were next.
The Shkedis were interested in assuming the role, and for Rabbi Bruk it was a no brainer. "From the moment I met them; it was clear that they were a good fit. They're sincere, energetic, and they care about individuals, not grandiose congregations" said Rabbi Bruk. "We are delighted to have them join the leadership team of Chabad Lubavitch here in the Treasure State, and I know that eastern Montana will be uplifted to new heights as a result of their arrival".