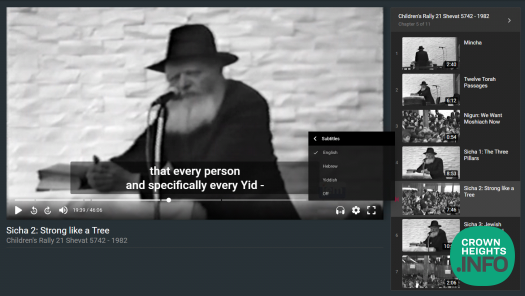 Newly Produced By JEM: Children's Rally, 21 Shevat 5742 – 1982
Children's Rally with the Rebbe in 770 in the days following the new year for trees, 21 Shevat 5742 – 1982.
The rally commences with afternoon prayers and the recital of the twelve Torah passages by the children. Following, the Rebbe gives several addresses. Learning relevant lessons from the new year for trees, the Rebbe encourages the children to grow like a tree, ever increasing in Torah and Mitzvos.
Watch here with a JEMclub subscription to JEM.tv.
This special release is part of JEM's 'Connection Point' program. All addresses are presented with subtitles in English, Hebrew and Yiddish. Running time 46 minutes.