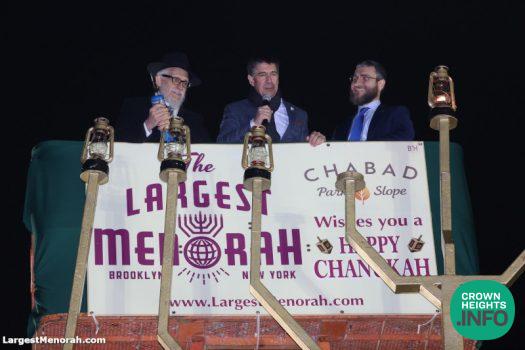 Two Powerful Brooklyn Chiefs Light up the World at Brooklyn Largest Menorah
Hundreds gathered at the NY Icon to celebrate the third night of Chanukah. Mr. John Abbamondi, Chief Executive Officer of BSE Global – parent company for the Barclays Center and the Brooklyn Nets – and NYPD Brooklyn South Chief Michael Kemper were honored with distributing gifts to the children and lighting the giant Menorah.
As a local Park Slope resident, Mr. Abbamondi shared how he walks by this exact spot every Saturday but this past week, when he saw the menorah, it brought him an additional level of excitement. He shared warm chanukah wishes on behalf of the Brooklyn Nets and the Barclays Center.
Chief Kemper than proceeded to make history as the first ever Jewish Chief to recite the brochos on the chanukah menorah.
Chief Kemper was joined by his wife for this historic moment.
He posted on his Facebook page "Lighting the BIGGEST Menorah in Brooklyn (maybe even the world?) was a tremendous honor & experience of a lifetime.
Thank you to Rabbi Hecht & The Chabad of Park Slope for the honor! And thank you to the greatest cops in the world – NYPD – for all you do every day!"
Rabbi Shimon Hecht of the NCFJE and Chabad of Park Slope, who has been sponsoring Brooklyn's Largest Menorah for over 35 years, "History was made tonight. May the Menorah light be with these two prominent chiefs to guide them and protect them. I bless them that their lives be illuminated as they have illuminated the world."
Schedule
Wednesday, December 1 at 6:00 pm 5th Night Of Chanukah,
Thursday, December 2 at 6:00 pm 6th Night Of Chanukah,
Friday, December 3 at 3:30 pm 7th Night Of Chanukah,
Saturday, December 4 at 7:15 pm 8th Night Of Chanukah,
Sunday, December 5 at 5:00 pm
Pictures Credit: Itzik Roytman