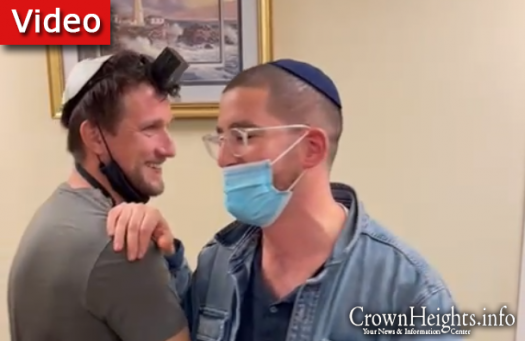 One Bris Leads To Another In Story of Outright Hashgacha Pratis
by CrownHeights.info
Avi Mogolefsky found himself in the swirl of Hasgacha Pratis when he recently fulfilled a promise to Moysh and Tirzah Ciment that he would fly out to California if there would be a bris held there for a special person.
The domino effect of Hashgacha Pratis began when Avi found himself short on time and had to bail from the joyous celebration to catch his Uber.
"I walked out from Tirtzah's heartfelt speech because my Uber driver was waiting for me, so I didn't want to keep him waiting," Avi said as he told over the incident.
After ten minutes of conversing with his driver, the man revealed that he was Jewish, and he had just discovered it.
"He tells me he is Jewish, he is Ukrainian. His mom grew up Christian but was Jewish and grew up in an orphanage," Avi said.
From there the conversation moved to the question of whether the Jewish driver was circumcised, and if he would be willing to have a bris.
"He says, I thought about it…I don't know…it's like $1,400, I couldn't afford it."
Now on a mission, Avi put tefillin on the Uber driver, assuring him that he would make arrangements for a bris as well.
Apparently, coming in for just one bris wasn't the only part of Hashem's plan, and now it's turned into two brisim and a karkafta.
Avi Mogolefsky at the first bris in California
View this post on Instagram
View this post on Instagram