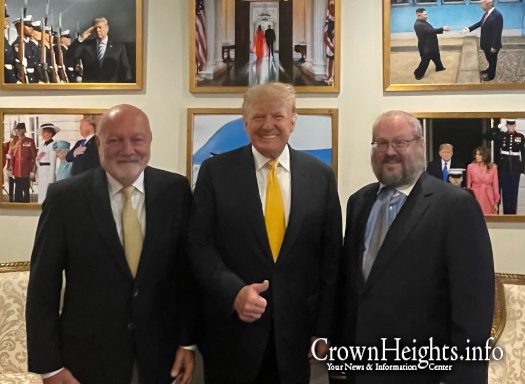 Former President Trump Meets With Lubavitcher Askan
On weds afternoon, noted Askan and Jewish community leader Yehuda Kaploun and his business partner, Edward Russo of RussKap holdings, met in Florida with former President Trump.
President Trump thanked Yehuda for his long-standing friendship and support and discussed world events and issues of Jewish concern.
Yehuda thanked the president for the growth in business opportunities that the Abraham accords provided for many companies throughout America and the world
They discussed the dangers of the Iran nuclear ambitions and the need for a strong America.
The President said he appreciated the Jewish community support for him and thanked the rabbis who attended the Faith in America event that was hosted by Kaploun with VP Pence attended by fifty Rabbis in the state of Florida.
President Trump shared with Yehuda Kaploun and Ed Russo several stories about his long-standing friendship with one of the worlds leading philanthropists Sheldon Adelson OBM and his wife Miriam and their deep love for Israel and the Jewish people
Yehuda shared with the president that his great grandfather Shmaya Krinsky lived four doors down from Sheldon's parents in Dorchester, Massachusetts and his great aunts were friends of Sheldon's sisters.
Yehuda thanked the president for his long-standing support of many charities and his many acts of kindness that he did long before he was elected president for members of the Jewish community. Many of these acts of kindness were done without any publicity at all.
President Trump expressed his deep admiration for Ed Russo for his long-standing environmental accomplishments and he wished them success is all their business ventures to help make America great.