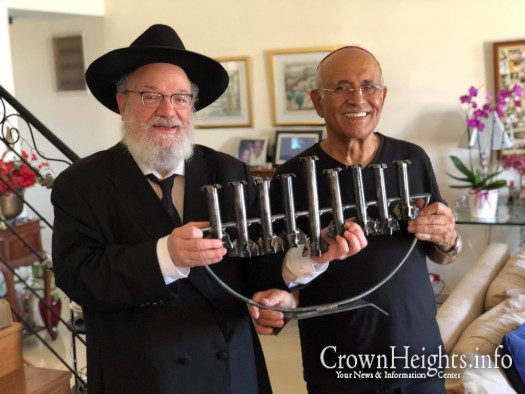 Brigadier General Avigdor Kahalani Attributes His Recovery to Shluchim's Prayers
Brigadier General Avigdor Kahalani, who was awarded the Medal of Heroism for his heroic fighting in the Armored Corps for the People of Israel in the Yom Kippur War, is currently recovering with miracles and wonders, from a disease that recently struck him.
Kahalani wanted to thank G-d for his recovery and attributed it to all the prayers that were recited on his behalf. He invited his old friend, the Rebbe's emissary to Tel Aviv-Yafo, Rabbi Joseph Gerlitzky, to his house to raise a "L'Chaim" to celebrate this joyous occasion.
Mr. Kahalani also put on tefillin with great emotion, and even asked to check all the mezuzahs in the house to make sure that that are all kosher and meticulously written. Mr. Kahalani gave Rabbi Gerlitzky a unique gift – a menorah made of remnants of shrapnel and rockets that fell in the city of Sderot, as a sign of gratitude and appreciation for the many prayers delivered by the Chabad shluchim as well as students of Chabad institutions in Tel Aviv, until his full recovery.