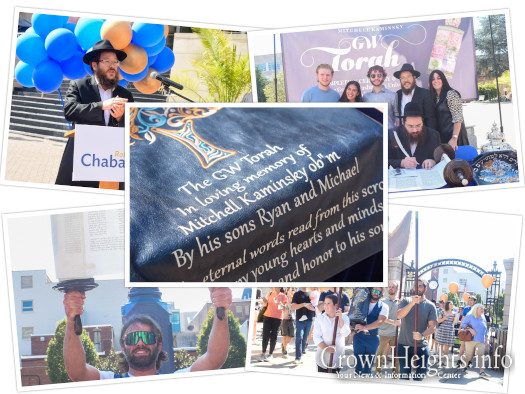 The Nation's Capital Pulsated with Jewish Pride
It was a truly historic day for the Jewish community of The George Washington University in Washington, DC.
Anytime a new Sefer Torah is written it is cause for great celebration but this Siyum Sefer Torah was unique.
Ryan was just a regular college student and after four years at GW, he graduated and began working. Then, without warning, his world was turned upside down. His father was killed in a tragic car accident.
Beyond the unthinkable personal loss, he now had a lot of difficult learning to do. At the young age of 25, he was suddenly thrust into the role of chairman of his father's vast company.
During Shiva, his Shliach Rabbi Yudi Steiner, suggested he commission the writing of a new Torah on behalf of The Rohr Chabad Center at GW. It would be a fitting memorial and an honor to his father's memory.
Well, a few years later, on the 27th of Tishrei, October 3rd, that dream came true. The celebration was timed to coincide with Colonials Weekend, an annual GW tradition when parents and alumni visit campus.
A large crowd of students, their families and alumni gathered on GW's Kogan Plaza to write the final letters of the Mitchell Kaminsky GW Torah. Many students took the opportunity to fulfill the mitzvah and purchase a letter in the Torah. Then the Sofer, Rabbi Shimon Raskin, wrote the letters on their behalf.
The GW campus resides in Foggy Bottom, a neighborhood in Washington known for the State Department complex, the university is just 2 blocks from the White house. Not exactly an area known for blaring Chasidic music or hundreds of Jews dancing in the streets. But that's exactly what happened. Escorted by the Metropolitan Police Department, the community danced and sang with overwhelming joy in this special occasion.
The parade arrived at the Torah's new home, the newly renovated Sasouness Family Chabad House. After Hakafos and a spectacular lunch buffet was served.
While the Rohr Chabad Center at GW attracts over 100 students on a typical Friday night and many thousands at the various Yomim Tovim throughout the year, today's event was historic. The Jewish students couldn't have asked for a more exciting and memorable celebration of Jewish pride and commitment to Hashem and His Torah.
"The feeling of pride and connection we all felt today will certainly shape the student's involvement in Yidishkeit well into adulthood" concluded Rebbetzin Rivky Steiner.
"I will never forget this day" said Rachel Kraft '22, "especially after a year and a half of not being in-person, to see the outburst of celebration, and joy for something so important as a new Torah".
The Torah will be lovingly read from during weekly Shabbos minyan and Yomim Tovim.