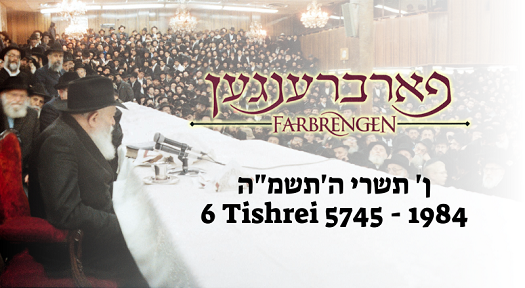 "It is our honor and pleasure to announce the timely publication of the Rebbe's Farbrengen from the sixth of Tishrei 5745 – 1984. With subtitles in English, Yiddish and Hebrew," JEM wrote on the official release.
The full Farbrengen, which is now available for viewing at JEM.tv with a JEMClub membership.
The sixth of Tishrei marks the Yahrzeit of the Rebbe's mother, Rebbetzin Chana Schneerson. As it occurs right in the middle of the Ten Days of Repentance – between Rosh Hashanah and Yom Kippur – during this farbrengen the Rebbe goes to great lengths highlighting the special time of year and the unique lessons to be learned.
Then, moving on to the main event of the day, the Rebbe honors his mother's legacy with a touching memory from his childhood along with a powerful commentary on the state of women's rights. Sadly, the Rebbe says, there are some who, in their desire to "liberate" women from their unique contribution, end up corrupting the Torah and insulting women along the way. But the Torah makes clear distinctions between men and women, while highlighting and celebrating their different roles.
"The Rebbe's talks make clear: the Jewish woman is the pillar of the entire Jewish nation, and she ought to be celebrated as such," JEM wrote.
The publication of the Farbrengen coincides with the launch of tishreiwiththerebbe.com. Functioning as a streamlined content hub, it's a one stop shop for experiencing all recorded media from Tishrei with the Rebbe published from JEM.
The new film, with a running time of just under three hours, is a perfect way to begin your new year. As the Rebbe emphasizes in one of his talks: All it takes during this unique period is a single moment of sincere return to God. A single thought of repentance can transform an entire life – and bring unity and peace to the entire world.