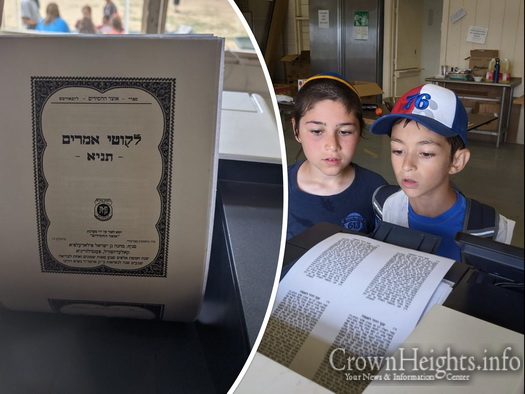 First Tanya Printed in Memory of Rabbi Sholom Jacobson
On Wednesday the 19th of Menachem-Av, Camp Gan Israel Philadelphia, celebrated a great milestone, the first printing of Tanya on the 10-acre grounds where hundreds of kids have enjoyed their summers. CGI Philadelphia provides a fun, happy place for kids from a diverse Jewish community, to learn and grow in their Yiddishkeit and Ahavas Yisroel.
The campers participated in the printing by learning from the first copy and reciting pesukim.
This printing was the first printing after the tragic passing, just one day earlier, of the great chossid and mashpia, Rabbi Sholom Jacobson, the man responsible for overseeing the printing of thousands of Tanyas across the world. Rabbi Jacobson was hands-on with this mivtzah until his last days, consulting on the printing at Camp Gan Israel Philadelphia as well.
The organization of each printing takes weeks of planning and research, there are a number of Tanya printings planned, the average cost per printing is $500-$1000, to help defray these costs and to participate in the upcoming printings in honor of Rabbi Sholom Jacobson, please donate at https://cash.app/$TanyaPrinting
This campaign is for a number of specific Tanya printings, and not for the general Mivtza Tanya campaign.
A dedication to Rabbi Sholom Jacobson was included in Tanya #7712, printed in Camp Gan Israel Philadelphia – Collegeville, PA.