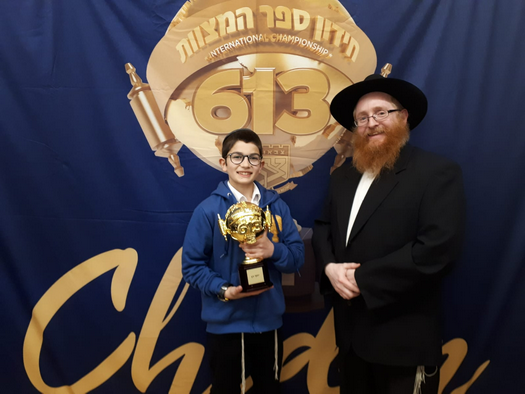 B"H four students from Lubavitch Schools London UK won top awards at the International Chidon Sefer Hamitzvos Championship this year.
Chidon Sefer Hamitzvos is a worldwide competition between thousands of Jewish children who learn the 613 Mitzvos of the Torah in depth, as codified by the Rambam.
Participating students study hard all year and take tests to prove their knowledge. If they qualify, they join a truly unique "Chidon experience" which climaxes with an incredible game show, showcasing the unbelievable knowledge they have gained. The judges are a panel of Talmidei Chachomim.
The game show is followed by an award ceremony worthy of its title, awarding personalised certificates, plaques, medals and actual trophies for the top marks in each grade. It is kinas sofrim at its best.
This year Lubavitch Boys School student Yosef Katz (Hampstead) won a gold trophy; Lubavitch Senior Girls students Rivka and Chaya Mushka Zavdi (Golders Green) won a silver and gold trophy respectively; and Lubavitch Senior Girls' student Batsheva Dubov (Wimbledon) won a Kol HaTorah award. Additionally, a further 50 students in the schools received plaques and medals.
The Lubavitcher Rebbe wanted every man, woman, and child to study a daily portion of Rambam. The Rebbe's vision of Jewish unity through Torah study: each person on his or her level, has been made so much more meaningful through the Chidon. The goal of the Chidon is that every child gain a clear understanding of every one of the 613 Mitzvos of the Torah as codified by the Rambam—so that, for the rest of their lives, when they study the daily shiur, they will be able to comprehend it properly. It is well-proven that the children who actively participate in the Chidon have a lasting knowledge and appreciation for Sefer Hamitzvos, even many years later.
The programme was organized by Rabbi Dudi Cohen & Rabbi SA Hackner of Lubavitch Boys School, and Mrs. Bryski, Miss Wolffe, Miss Keselman and Miss Austin of Lubavitch Junior and Senior Girls School, in conjunction with Tzivos Hashem Headquarters in NY.
For more information and for schools interested in registering for 5782 please contact Tzivos Hashem International at TheChidon.com